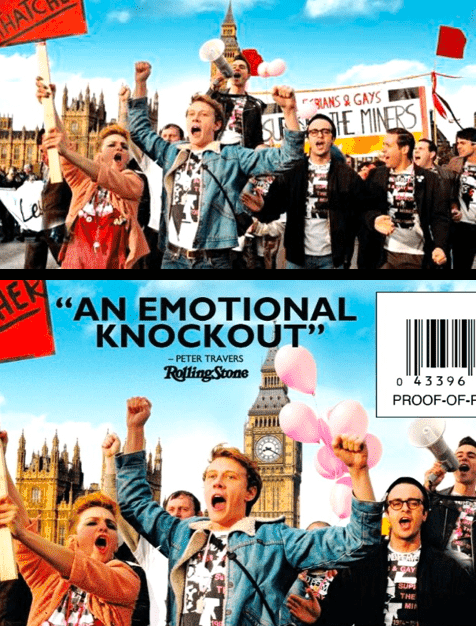 The first image above is the original promotional artwork for Pride — the critically acclaimed 2014 film about gay activists who supported a bitter strike by British coal miners in the 1980s. 
The second image is the back cover of the Pride DVD released in the US on Dec. 23. 
Can you spot the difference? 
That's right, the banner in the background saying "Lesbians & Gays Support The Miners" has been removed. 

Additionally, in the description of the film that appears on the back cover, the "London-based group of gay and lesbian activists" have been changed to just "a group of London-based activists," according to Pink News. 
The Hollywood Reporter has more: 
Ironically, those changes invert the plot of the film: Initially, the Welsh miners are more comfortable with the LGBT community's monetary support than with its open sexual identity, but the miners ultimately become comfortable with their new supporters. Several characters come out during the course of the movie.
The film won several prizes at the British Independent Film Awards last month: the best British independent film award, along with best supporting actor and actress prizes for its stars Andrew Scott and Imelda Staunton, respectively.
Representatives for Sony Pictures Home Entertainment, which released the disc in the U.S., and CBS Films, which acquired U.S. rights, did not respond to requests for comment.
CBS Films said on Twitter on Saturday afternoon that it's looking into the matter: 
@pinknews we're looking into this now and our page for the film remains the same as it has for months: http://t.co/4q7JwtCJ5y

— CBS Films (@CBSFilms) January 3, 2015