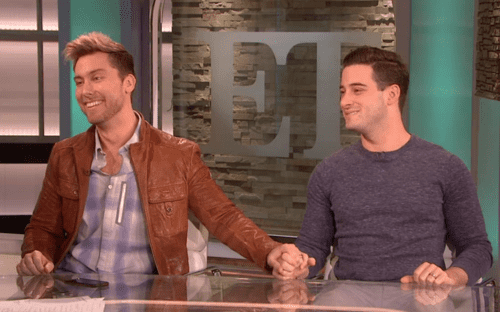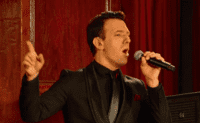 Lance Bass and now husband Michael Turchin appeared on Entertainment Tonight to chat with Nancy O'Dell about their wedding ahead of an E! special airing next month about it. The two married on Dec. 20 at the Park Plaza Hotel in Downtown Los Angeles. Guests included Kristina Applegate, Gabourey Sidibe, Kris Jenner and N'Sync member JC Chasez who also sang at the wedding. Bass said to O'Dell that one of his favorite moments from the wedding is when Chasez performed for the couple.
Said Bass:
"It was one of the best pieces of the wedding…and you'll see there's a really funny moment that happens (in the E! special)."
Bass and Turchin dated for several years until Bass asked Turchin's family for his hand in marriage and proposed in September 2013. Bass mentioned in the interview that getting to the altar was no easy task considering attitudes toward gay marriage in the South.
Said Bass:
"Coming from the South it's still a huge subject – the whole gay marriage…to see my Mississippi parents walking me down the aisle, it really spoke volumes."
The E! special, Lance Loves Michael: The Lance Bass Wedding, airs on Feb. 5 at 8 p.m. ET/PT.