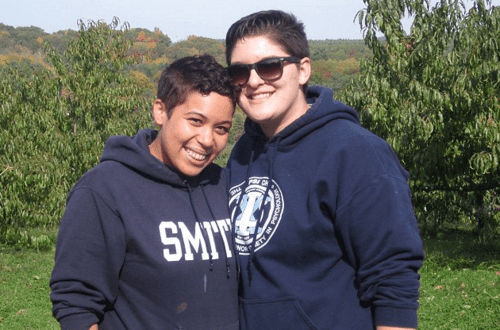 Katherine Patrick (above left), Massachusetts Governor Deval Patrick's daughter, has announced her upcoming wedding to girlfriend Alisha Lemieux. The couple currently reside in the San Francisco Bay area where Patrick is pursuing her doctorate in psychology and Lemieux is studying sociology.
"The Governor and Mrs. Patrick joyfully announce the engagement of their daughter Katherine Wintersmith Patrick to Alisha Marie Lemieux of New Bedford," Patrick's office said in a press release:
"Ms. Patrick is a graduate of Smith College and is studying for her doctorate in psychology at the Wright Institute in Berkeley, California.  Ms. Lemieux is studying for her bachelor's degree in sociology at Mills College in Oakland, California.  The couple reside in the Bay Area."
Katherine Patrick has been active in her father's campaigns, contributing to its social media presence and and appearing with the Governor in a number of LGBT events throughout Massachusetts.