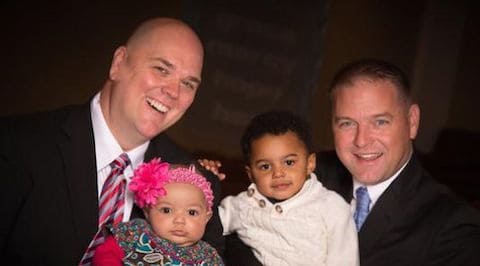 And the trend of punishing children for the behaviors/beliefs/orientations of their parents continues. Davidson Academy, a non-denominational school in Nashville, TN had agreed to meet with Brian Copeland and give him a tour of the school where he wished to enroll his young son and daughter. Those plans were nixed, however, once school officials learned that Copeland was married to his husband Greg Bullard, and the decision was made that they would not allow Copeland and Bullard's children to be admitted.
After receiving an official rejection from the school, Bullard posted it to Facebook to illustrate that discrimination is still "alive and well" in Tennessee, which prompted condemnation from advocates and even alumni.
Read the letter, in part:
Any lifestyle conduct which is in opposition to the mission of Davidson Academy or which impedes the school's credibility with its constituency or the general public is unacceptable. One example of such lifestyle is homosexuality.
Copeland and Bullard do not wish to press charges or seek any legal action against the school, but are expressing frustration that it is "very, very hard" to find a private school that offers the rigorous faith-based education they want for their children that won't discriminate against a married gay couple.
You can read the official rejection letter AFTER THE JUMP…