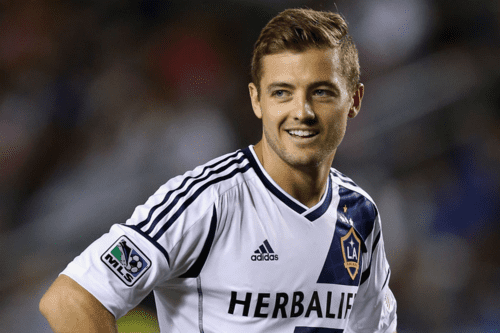 In a column for USA TODAY Sports this week, LA Galaxy player Robbie Rogers doubled down on his criticism of FIFA and its decision to hold the 2018 and 2022 World Cups in Russia and Qatar respectively. Both countries have extremely poor records on LGBT rights, with homosexuality remaining illegal in Qatar and Russia's anti-gay propaganda ban silencing free speech on LGBT issues. 
Wrote Rogers:
FIFA is great at lofty rhetoric. They say their goal is improving the game of soccer "constantly and promot(ing) it globally in the light of its unifying, educational, cultural and humanitarian values, particularly through youth and development programs."
Those are wonderful ideals and its how I think of my sport and my place in it as a role model to young athletes. But FIFA doesn't live those words, not when they decide to hold the next two World Cups, the most widely watched sporting events in the world, in Russia in 2018 and Qatar in 2022, two countries that fall far short when it comes to humanitarian values, not to mention their seriously anti-LGBT values and crushing anti-gay laws.
If actions speak louder than words, then the message FIFA sends to gay athletes is painfully clear. Not only don't they have our backs, our lives don't matter. So for any gay soccer player who has hopes of playing for the U.S. National Team at the World Cup, being open about their sexuality could have real consequences when they set foot in countries with laws that could land them in jail.
Read the full column here. 
Last month, Rogers called FIFA's decision to host the World Cup in anti-gay countries "insane".