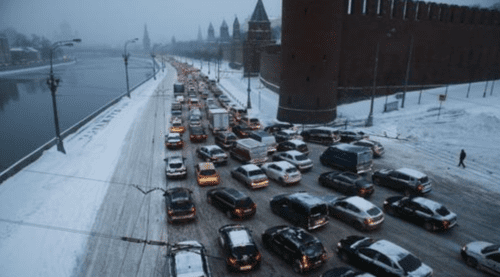 The Russian government continues its steady persecution of LGBT citizens as Russian transgender people no longer qualify for driver's licenses in the country under a new set of revisions to medical controls for drivers, reports BBC News.
The Russian government says the new rules are to help cut down on the number of car accidents. Although most of the provisions refer to physical impairments, such as blindness, "gender identity disorders" including transsexualism and dual-role transvestism are referenced in the revised provisions. Sadomasochism and exhibitionism are included as well according to BuzzFeed's J. Lester Feder and Susie Armitage.
Human rights activists and organizations, including the Association of Russian Lawyers for Human Rights, are justly outraged, calling the new law "discriminatory." The Association of Russian Lawyers is demanding clarifications from the Russian Constitutional Court and seeking support from international human rights organizations in the process. Shawn Gaylord of Human Rights First calls the banning of people driving based on gender identity ridiculous.
Said Gaylord:
"Beyond the denial of basic freedoms, this provision may deter transgender people from seeking mental health services for fear of receiving a diagnosis that would strip them of their right to drive, and leaves the door open for increased harassment, persecution, and discrimination of transgender people by Russian authorities.
"We urge the United States to immediately condemn this provision and to press the Russian government to repeal this decision."
Russian psychiatric experts Mikhail Strakhov and Valery Evtushenko of the Russian Psychiatric Association also condemned the regulations. However, the Professional Drivers Union supported the move, including union head Alexander Kotov. "We have too many deaths on the road, and I believe toughening medical requirements for applicants is fully justified," said Kotov.
The driving regulations is just one more contribution to creating a hostile, oppressive environment for LGBT Russians and it's clearly working. Since Russia passed it's anti-gay "propaganda," law in June 2013, hate crimes against LGBT people in Russia have dramatically increased.