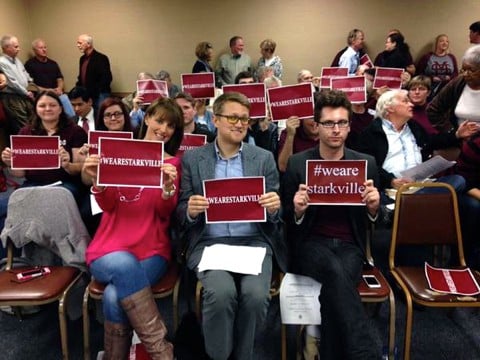 One year ago today, Starkville, Mississippi, became the first city in the state to pass a resolution recognizing the dignity of its LGBT citizens. 
However, instead of celebrating the anniversary of the historic resolution, the city's LGBT community is reeling from the Board of Aldermen's decision to undo it on Tuesday night.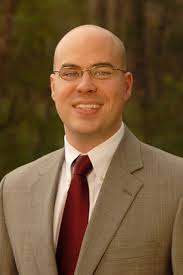 As expected, the board voted 5-2 to override Mayor Parker Wiseman's (right) veto of its previous vote to repeal the pro-LGBT resolution. Perhaps more importantly, the board also voted to override Wiseman's veto of its vote to repeal domestic partner benefits for city employees, which were passed in September. 
The votes came after hours of public comments from dozens of speakers, most of whom expressed support for the pro-LGBT policies. The LGBT community also staged a rally and launched a hashtag, #WeAreStarkville, in advance of the vote. 
Human Rights Campaign Mississippi director Rob Hill issued this statement: 
"Though upsetting and disappointing, the board's vote tells us that we must do more community engagement to show the leaders of Starkville that equality is important to move the city forward. Fairness and inclusion is critical to attracting new business to Starkville, diverse students to Mississippi State and quality workers to join the city's workforce. Mayor Parker Wiseman showed tremendous leadership, courage and confidence to represent all residents of Starkville, regardless of sexual orientation or gender identity. LGBT people are our friends, neighbors, coworkers and family members, and we must ensure all people are welcomed within their communities."
Ultimately, the board's decision to override the mayor's veto won't have much practical impact. No employees had signed up for domestic partner benefits, according to Wiseman. Assuming that the U.S. Supreme Court makes marriage equality the law of the land in June, gay employees in Starkville will be eligible for spousal benefits. 
The resolution, meanwhile, was nonbinding and largely symbolic, and needless to say aldermen can never take away LGBT citizens' dignity, no matter how hard they try. 
If anything, as HRC's Hill suggested, the primary effects of the board's decision will be to hurt the city's economy and Mississippi State University's ability to recruit top students and faculty. 
So congratulations, aldermen. 
Twitter reactions to the Board's vote, AFTER THE JUMP … 
#WeAreStarkville. It doesn't matter what the board of aldermen say, we still live here, and we will continue to fight for everyone's rights.

— MSU Spectrum (@MSUSpectrum) January 21, 2015
Tonight I sleep with a clear conscious knowing I did everything I could to make Starkville better. #WeAreStarkville

— Melissa Grimes (@m_d_grimes) January 21, 2015
Tonight: While POTUS discusses equality and human rights for ALL. Starkville, MS: resends equality and human rights. #SOTU #WeAreStarkville

— cari casteel (@cl_casteel) January 21, 2015
"When what you're doing hasn't worked for 50 years, it's time to try something new." DID YOU HEAR THAT MISSISSIPPI? #SOTU #WeAreStarkville

— Alyssa Warrick (@WeezieWeaver) January 21, 2015
I still believe in the good in Starkville. #WeAreStarkville @HRC

— Rachel the Librarian (@rachelcannady) January 21, 2015