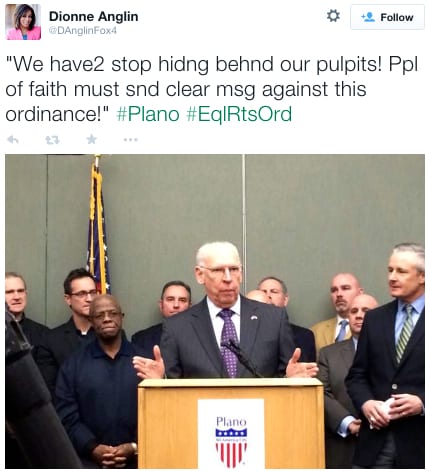 Sen. Ted Cruz's father, Rafael Cruz, has joined the effort to repeal LGBT protections in Plano, Texas. 
The elder Cruz, who lives in nearby Carrollton, spoke Wednesday at a press conference in Plano (above) organized by the Texas Pastor Council, the shadowy Houston-based group that's leading a petition drive to overturn Plano's recently passed Equal Rights Ordinance.
From The Dallas Morning News' report on the press conference: 
"This is an attack on Judeo-Christian beliefs in America," Cruz told a Plano crowd. "It's time people of faith become involved in the political arena." … 

Mike Buster, executive pastor of Prestonwood Baptist Church, called the ordinance a travesty. "We believe the Plano City Council is attempting to silence people of faith in the workplace," he said. … 

Incoming state Rep. Matt Shaheen said he and several other local lawmakers are drafting a bill that would prohibit cities from enacting ordinances that go beyond existing anti-discrimination protections.
 CBSDFW.com has more: 
It was standing room only when leaders of the anti-ordinance coalition called on supporters to help gather signatures and force a vote to get rid of the equal rights law.

"This ordinance needs to be repealed. If it's not repealed, then we'll go to the courts, and we'll spend and cause the city to incur tens of thousands of dollars," said Jeff Mateer of the Liberty Institute.

The new ordinance extends to gays, lesbians, and transgender people the same legal protection that shields other minorities from discrimination.

"The city council took the step of outlawing certain religious expression in the workplace. This was wrong, and this was abuse of government power," said Matt Shaheen who was recently elected to represent Texas House District 66 which covers western Plano.
Opponents of the ordinance need to gather 3,822 signatures by Jan. 20 to put a repeal of the ordinance on the ballot.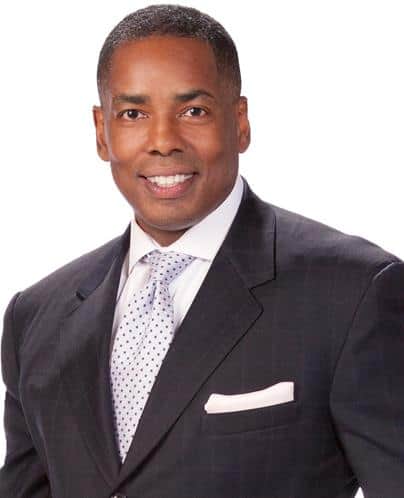 Later Wednesday, Plano Mayor Harry LaRosiliere (right) held his own press conference to defend the ordinance and clear up misconceptions about it. The city has also posted extensive information on its website. 
From CBSDFW.com: 
Not everyone in the crowd agreed with the speakers. Joe Riggs says as a gay man living in Plano, the position of the group concerns him.

"I think it sends the wrong message to people. There's room for everyone in Plano, and there's no reason to discriminate on people based on their sexual orientation, their gender, or any other reason," Riggs said.

In response to the news conference, Plano's mayor told reporters at City Hall that the time to debate the ordinance is over.

"A city of excellence reflects the rights of everyone and discriminates against no one. The ordinance is fair. It's legal, and it's constitutional," LaRosiliere said.
Also Wednesday, the Texas Pastor Council again attacked Houston Mayor Annise Parker — this time over the city's decision to seek a non-jury trial in a lawsuit challenging the city's Equal Rights Ordinance. Opponents of the Houston ordinance sued the city after it rejected their petition because it didn't have enough valid signatures. 
Opponents of the ordinance have requested a jury trial, instead of a bench trial in front of a judge — which is standard in cases related to elections, The Houston Chronicle reports. The Pastor Council is apparently trying to spark right-wing outrage over the jury trial issue similar to the controversy over the city's decision to subpoena pastor sermons. But it doesn't seem to be getting much traction. The trial is set for Jan. 19. 
The Houston Chronicle reports: 
Conservative opponents suing the city over its equal rights ordinance are pushing, along with several City Council members, for the upcoming case to go before a jury, a move the administration said is unprecedented and would defy election law. … 

Critics sued last summer after Mayor Annise Parker and Feldman announced that they had failed to gather enough valid signatures to send the issue to voters. That case is set to start Jan. 19 in state district Judge Robert Schaffer's courtroom. In a petition filed last year, critics asked that the case instead go to a jury trial.

Parker and Feldman defended the city's position Wednesday, describing the filing to prevent a jury trial as routine.

"If you're afraid you're not going to be able to win in court, you start trying to win in the court of public opinion," Parker said. "Apparently, that's what's been going on here."
Watch CBSDFW.com's report on the Plano press conference, AFTER THE JUMP …