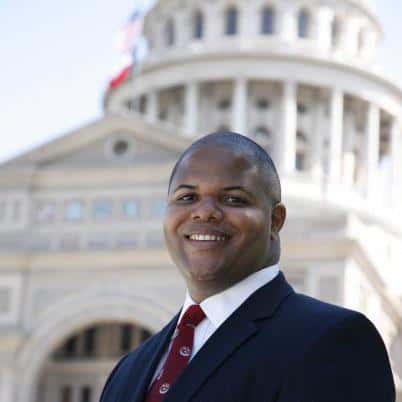 On the 37th anniversary of Harvey Milk's inauguration to the San Francisco Board of Supervisors, a Texas lawmaker introduced a bill Thursday to ban anti-LGBT employment discrimination statewide. 
State Rep. Eric Johnson, D-Dallas (above), who represents heavily LGBT areas of the city, introduced House Bill 627 and launched a petition in support of the measure. The bill's introduction comes as anti-LGBT groups fight to repeal nondiscrimination ordinances passed in Houston and Plano. 
From Johnson's petition: 
One of Milk's first acts on the San Francisco Board of Supervisors was to pass a landmark non-discrimination ordinance that prohibited employment discrimination on the basis of sexual orientation. Nearly four decades later, Texas law still does not protect workers from being fired or discriminated against solely due to their sexual orientation or gender expression.


"Every Texan should have the opportunity to work hard and provide for their families," Rep. Johnson said. "Right now, the law allows someone to be fired simply for being him or herself or for whom they love. This really is a civil rights issue."

Rep. Johnson's bill contains the same employment non-discrimination provisions Milk passed in San Francisco in 1978. It would include sexual orientation and gender expression in the list of prohibited employment discrimination.

Polls show that most Texans support prohibiting employment discrimination based on sexual orientation. "The Legislature is lagging behind the people of Texas on this issue," Rep. Johnson said. "We need to catch up."
More from Johnson's press release: 
Nearly four decades after San Francisco adopted Milk's ordinance, 21 states and hundreds of cities have prohibited employment discrimination based on sexual orientation.

A number of Texas cities have passed employment non-discrimination ordinances as well, including Plano, Fort Worth, Dallas, Houston, San Antonio, El Paso, and Austin. However, the State of Texas has not yet joined them in enacting such protections for its workers. Rep. Johnson is looking to change that and extend non-discrimination protections to all Texas workers.
Bills to ban anti-LGBT job discrimination have been introduced in previous sessions, but never made it out of committee. Johnson's bill will also face an uphill battle in the Republican-dominated Texas Legislature, which convenes Jan. 13. In fact, the LGBT community is expected to be on the defensive against attacks including several "license to discriminate" measures.
The Houston LGBT publication OutSmart Magazine reports: 
Republicans picked up seats in November elections, further increasing their lopsided majorities in both the House and Senate. And anti-LGBT lawmakers are expected to respond to the spread of marriage equality to 35 states in the wake of the U.S. Supreme Court's June 2013 ruling in Windsor v. United States striking down the federal Defense of Marriage Act. "We've seen that nationally," said Daniel Williams of Houston, legislative specialist for Equality Texas. "There has been a backlash against the freedom to marry in states that have had legislative sessions since Windsor. We're going to see backlash. It's going to be a difficult session. It's going to be a lot of hard work, but we'll prevail."
Sign the petition in support of Johnson's bill by going here.