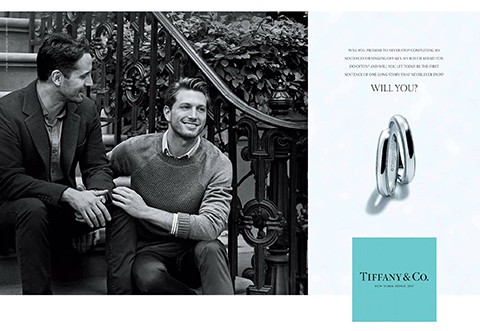 Tiffany & Co. is grabbing people's attention with more than their little blue boxes lately. The iconic jewelry retailer has launched a new engagement ring ad campaign that targets gay male couples and also features an actual gay couple (as opposed to relying on models). The company released a statement to ELLE Magazine heralding their first campaign focusing on same-sex love and marriage:
"Nowadays, the road to marriage is no longer linear, and true love can happen more than once with love stories coming in a variety of forms," said Linda Buckley, Tiffany & Co. VP of North American PR, in a statement to ELLE.com. "The Tiffany engagement ring is the first sentence of the story that a couple will write together as they create a life that is deeply intimate and exceptional, which is the message we hope to convey through this campaign."
The picture of the handsome couple in Tiffany's ad, who thus far have remained anonymous, also features a romantic and wistful caption sure to give any sap (yours truly included) a case of the "aww"s:
"Will you promise to never stop completing my sentences or singing off-key, which I'm afraid you do often? And will you let today be the first sentence of one long story that never, ever ends? Will you?"
Tiffany is not the first retailer to feature actual gay couples in its advertisements. You'll recall Banana Republic last year featured the stylish duo of Nate Berkus and Jeremiah Brent in a series of ads focused on "showcasing true relationships."