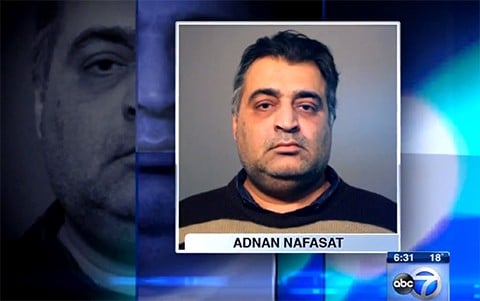 For the second time in the past month, a Chicago-area Uber driver has been accused of sexually assaulting a passenger. The Cook County State Attorney's office has charged Adnan Nafasat with kidnapping and criminal sexual assault after trying to force himself onto a male passenger late last July. Nafasat allegedly instructed his passenger to sit in the front seat and began  to grope and kiss the man during the ride. 
Despite the man's demands to be taken home, Nafasat refused, began to choke the man, and drove at speeds too quickly for him to attempt jumping from the vehicle. Nafasat eventually drove the man to an unfamiliar location in the south side of the city and exposed himself to the man, who again refused his advances. Nafasat finally acquiesced and took the man home.
The man managed to take a photograph of Nafasat that he later presented to police in addition to identifying the Uber driver in a subsequent police lineup.
"Our thoughts are with the victim of this horrible incident," Uber representative  Jennifer Mullin said in a statement. "We immediately removed the driver from our platform upon learning of the allegations and have been assisting authorities with the investigation."
Watch a news report on the assault, AFTER THE JUMP…