Next month the citizens of Slovakia will participate in a country-wide referendum that will decide the future of a number of key civil rights for LGBT Slovakians. Slovakia's president Andrej Kiska (above) first made the announcement last year after Alliance for Family, a local conservative advocacy group, gathered some 400,000 signatures in support of putting gay rights up to the popular vote.
The Alliance Defending Freedom (ADF), an Arizona-based Christian legal organization, actively lobbied Slovakia's constitutional court in support of the referendum. Roger Kiska, the ADF's senior legal counsel, has openly expressed his opinion that the fate of all civil rights, even those of minorities, deserve to put in the hands of the majority vote. 
"The people of Slovakia should have the freedom to preserve marriage and family if they so choose," Kiska said in 2014. "The Constitutional Court is right to affirm the democratic freedom of the Slovak people. This referendum will allow Slovaks to protect current Slovak law and important social values."
Slovakia's referendum will ask voters:
If they would like marriage to be defined as a union between a man and a woman.
If gay couples should be banned from adopting children.
If children should have to attend sex education classes against parents' wishes.
Proponents of the referendum speak of it as if it is meant to provide  legitimate means through which LGBT rights could be achieved. As Dalibor Rohac explains in a New York Times op-ed, however, the gesture is more of a political distraction meant to draw Slovakians' attention away from the country's other pressing needs.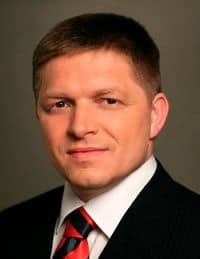 For the government of Prime Minister [Robert] Fico (right), the controversy is a welcome — though temporary — distraction from some very real problems facing Slovakia. While its transition from Communism was a success, the country is still plagued by rampant corruption, chronic unemployment — exceeding 30 percent in some regions — and by the intergenerational poverty of the sizeable Roma population.
The country has also seen a geopolitical shift following Russia's invasion of Ukraine, with Mr. Fico becoming one of the Kremlin's leading apologists. Unsurprisingly, Slovakia's anti-gay activists have a soft spot for Vladimir Putin, too. Former Prime Minister Jan Carnogursky, a former Catholic dissident and an outspoken supporter of the referendum, noted recently that "in Russia, one would not even have to campaign for this — over there, the protection of traditional Christian values is an integral part of government policy" and warned against the "gender ideology" exported from the United States. […]
It seems unlikely that Slovak traditionalists will ultimately be on the winning side of this argument. In the meantime, the mean-spirited campaigning and frequent disparaging remarks about gays and their "condition" are a poor substitute for serious policy discussions and are making the country a much less pleasant place, and not just for its gay population.
Read Rohac's full piece here.