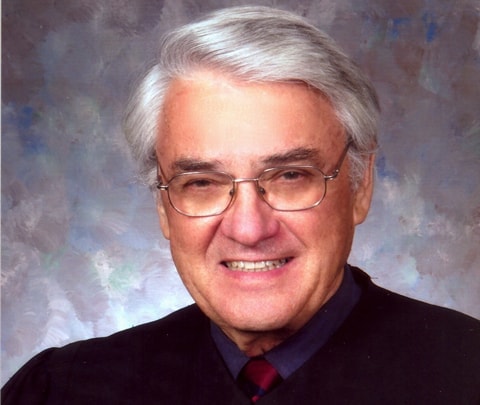 A three-judge panel of the 5th U.S. Circuit Court of Appeals will hear oral arguments Friday, Jan. 9 in same-sex marriage cases from three states — Lousiana, Mississippi and Texas. 
Earlier this week, the 5th Circuit revealed judges for the panel — James E. Graves Jr., Patrick E. Higginbotham (above) and Jerry E. Smith.
Higginbotham and Smith are Reagan appointees, while Graves is an Obama appointee. The 2-1 split reflects the overall makeup of the 5th Circuit, which has 10 Republican appointees and five Democratic appointees. 
Although the 5th Circuit is considered to be among the most conservative federal appeals courts in the country, there is hope for a favorable ruling. From ThinkProgress:  
Supporters of equal rights for gay couples can almost certainly give up on Judge Smith. Smith once described himself, albeit somewhat jokingly, as a former "right-wing activist." He also once described feminists as a "gaggle of outcasts, misfits and rejects." …

Judge Graves, meanwhile, is a much newer addition to the federal bench, so his views are less defined. Nevertheless, the 

overwhelming majority

 of federal judges to consider marriage equality cases since the Supreme Court struck down the anti-gay Defense of Marriage Act in 2013 have sided with gay rights. If would be surprising if an Obama-appointed member of a federal appeals court joined the few outliers who broke with this consensus.

That leaves Judge Higginbotham. … 
The Dallas Morning News has more on Higgonbotham, who is now widely expected to provide the swing vote: 
Once considered solidly conservative, Higginbotham has irritated some conservatives with his rulings critical of Texas judges' handling of death-penalty cases and a recent decision in which he wrote an opinion upholding the University of Texas' race-conscious admission policy.

Last summer, Higginbotham told The Texas Lawbook's Mark Curriden that the New Orleans court has shifted considerably to the conservative side during his 32 years as a member.

"When I joined the 5th Circuit, I may have been the court's most conservative judge," he said. "Now, I'm probably left of center, even though I don't think I've changed my views at all."
On the same day the 5th Circuit hears oral arguments, the U.S. Supreme Court will meet to decide whether to hear marriage cases from five states, possibly paving the way for a ruling that would effectively render the 5th Circuit's decision moot.  
But even assuming the high court decides to hear at least one of the cases, the 5th Circuit panel has a chance to either harden the existing circuit court split or provide a huge momentum boost for marriage equality that would also be a devastating blow to gay-rights opponents.