Outgoing Senate Majority leader Harry Reid was kept overnight in a Nevada hospital after breaking "a number of ribs and bones in his face" while exercising, CNN reports: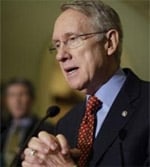 The Nevada Democrat was using a piece of equipment to exercise on Thursday when it broke, causing him to fall.
His doctors expect a full recovery, and he's set to return to Washington over the weekend before the Senate reconvenes next week.
According to the statement, the Senate Democratic Leader was treated and admitted overnight as a precaution at University Medical Center in Las Vegas after first being transported to St. Rose Dominican Hospital in Henderson by his security detail.