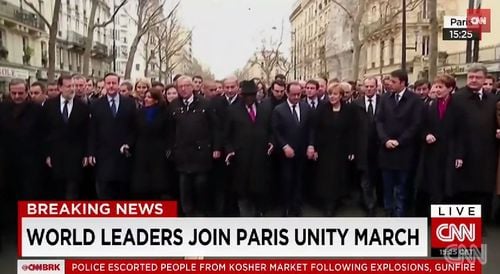 World leaders joined hundreds of thousands of people on the streets of Paris today in a "unity rally" in response to the terrorist spree that has taken place across France over the past week. 
German Chancellor Angela Merkel, Spanish Prime Minister Mariano Rajoy, British PM David Cameron, Russian Foreign Minister Sergey Lavrov, Israeli PM Benjamin Netanyahu and others were in attendance. 
The U.S. was represented by the Jane Hartley, the ambassador to France. 
CNN reports:
French President Francois Hollande was joined by other heads of state and dignitaries — several who linked arms.
At the very front of the march was Dalil Boubakeur, the rector of the Great Mosque of Paris and president of the French Council of the Muslim Faith.
French officials announced "exceptional measures" to protect not only the throngs expected to gather near the Place de la Republique in central Paris, but also a veritable who's who of foreign leaders — a test of the security forces of a nation rocked by days of terrorist violence.
Watch live footage of the rally as well as video of the world leaders marching together, AFTER THE JUMP…