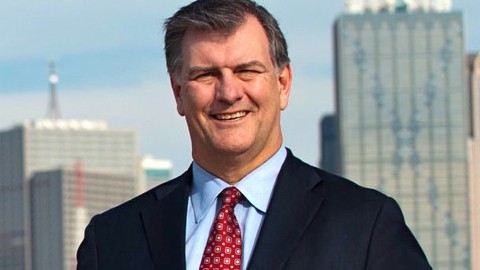 Back in 2012, Dallas Mayor Mike Rawlings declined to join a coalition of mayors who support same-sex marriage.  
And in 2013, Rawlings refused to allow a City Council vote on a resolution in support of marriage equality.
All along, Rawlings' position has been that although he personally supports same-sex marriage, he doesn't think it should be a city issue.  
Now, though, it has clearly become a city issue, and Rawlings' lack of leadership may be coming back to haunt Dallas' gay employees. 
The Dallas Morning News reports that the city's pension boards are divided on whether to recognize out-of-state same-sex marriages for the purposes of providing equal retirement benefits: 
This week, two Dallas boards — the Police and Fire Pension Board and the Employees' Retirement Fund board — will consider actions that could put Dallas in line with Fort Worth. But the city officials say they are facing reluctance from lawyers who fear legal consequences from the state law and would rather wait on the Supreme Court to provide more guidance.

City Council member Lee Kleinman, who serves on both boards, called the lack of action in Dallas "extremely frustrating." He said the pension board "has been resistant and the staff has been resistant." …

The city's Employee Retirement Fund has been equally difficult, he said.

"Over there I faced the exact same resistance and the same 'Let's wait and see' and the same B.S. line of 'Oh, it's the right thing to do, but let's not do it now,'" Kleinman said.
The Morning News reports that while the Police and Fire Pension Board would have to put the change to a vote of its members, the Employee Retirement Fund Board, which covers the rest of the city's workers, could fix the problem by simply changing its interpretation of "spouse" to include married same-sex partners. 
Noticeably absent from the story is Rawlings, who's up for re-election this year.