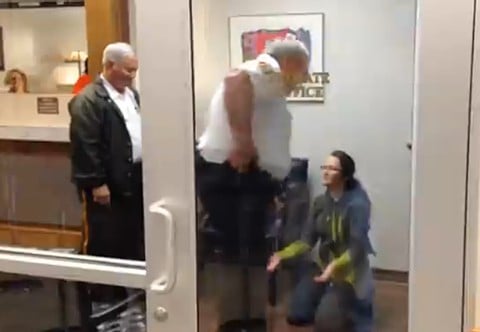 Anne Susan Diprizio, an Alabama minister has been arrested after she offered to marry a gay couple inside the Autauga County probate judge's office, the Montgomery Advertiser reports:
"Judge Booth said there was a lady in the office who wouldn't leave when he asked her to leave," Hill said.
Deputies asked Diprizio to leave several times, but she refused. Capt. Tom Allen told her she was either going to leave the office or be arrested, she got up from the chair she was sitting in and kneeled in the floor. Allen handcuffed her and led her across the street to the Autauga Metro Jail.
Courtney Cannon and Morgan Plunkett had received a marriage license from the probate office, and Cannon said Diprizio offered to perform the ceremony inside the probate office.
The Autauga County Probate Office stopped performing all marriage ceremonies on Friday. Booth then said the decision to stop performing the ceremonies was related to work flow, not a recent federal court order lifting the state's ban on same sex marriages.
Diprizio is being held on $1,000 bond.
Watch the Advertiser's report, AFTER THE JUMP