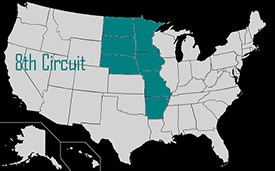 The 8th Circuit Court of Appeals has expedited a case challenging South Dakota's same-sex marriage ban and combined it with two other cases it is considering from Arkansas and Missouri. Oral arguments are set to begin the week of May 11.
From the court's order:
The parties' joint motion to expedite this appeal is granted. The parties shall observe the briefing schedule set forth at paragraph 11 of the motion: Appellant's brief, addendum, and appendix due February 27, 2015; Appellees' brief and addendum due March 19, 2015; Appellant's reply brief due April 2, 2015. It is the court's intention to set the three same-sex marriage cases (No. 14-3779 Lawson v. State of Missouri; No. 15-1022 Jernigan v. McDaniel; and No. 15-1186 Rosenbrahn v. Daugaard) for oral argument during the week of May 11-15, 2015 in Omaha, NE. The parties will be advised of the date and time of the arguments when the May calendar is established.
Developing…
8thCirc plans to set args in AR, MO, SD marriage cases week of May 11-15 http://t.co/nGFXWdHJI6 @Equality4AR @PROMOMissouri @bhcfequality

— Equality Case Files (@EQCF) February 3, 2015