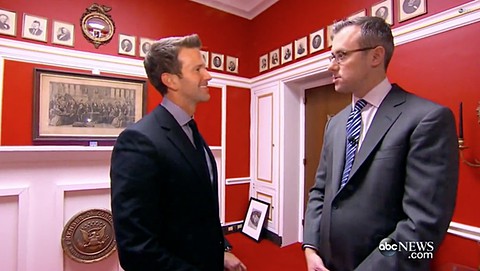 Rep. Aaron Schock (R-IL) has repaid the government $35,000 from his personal funds for his eyebrow-raising Downton Abbey-inspired office decor, USA Today reports:
"As he said he would, Congressman Schock has fulfilled his commitment to pay for all the renovation costs of the 18th Congressional District office in Washington," said a statement released by Schock's office Friday. "Even though office expenses are often covered by the Member Representational Allowance, the Congressman believed it appropriate to pay these costs himself as part of the office review process."
USA TODAY has reported that Schock had spent more $100,000 than of his taxpayer-funded account on office renovations in prior years. The expenses included thousands for leather furniture, hardwood floors and marble countertops for his offices in his central Illinois congressional district.
Past flamboyant expenditures on Schock's part include private flights on donor planes, a trip to see Katy Perry with the interns, and massage parlors. 
Previously, "Jon Stewart Shreds Aaron Schock with Instagram Montage Set to Taylor Swift: VIDEO" [tlrd]