In a six-page letter issued late Sunday, Alabama Chief Justice Roy Moore ordered probate judges in the state to neither issue nor recognize marriage licenses for same-sex couples tomorrow, local station WBRC reports: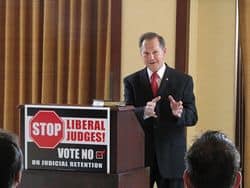 The order states, "Effective immediately, no Probate Judge of the State of Alabama nor any agent or employee of any Alabama Probate Judge shall issue or recognize a marriage license that is inconsistent with Article 1, Section 36.03, of the Alabama Constitution or § 30-1-19, Ala. Code 1975."
The order goes on to state that if any probate judge fails to follow the state's constitution, "it would be the responsibility of the Chief Executive Officer of the State of Alabama, Governor Robert Bentley… to ensure the execution of the law."
Barring Supreme Court action early tomorrow, Alabama is set to become the 37th state where same-sex couples can legally marry.
As we reported earlier today, probate judges who refuse to issue marriage licenses to same-sex couples may face fines and jail time.
The AP adds:
Susan Watson, executive director of the American Civil Liberties Union, said she doubted probate judges would defy a federal judge on Moore's behalf. She accused the chief justice of grandstanding.
According to a Friday report by MSNBC, Liberty Counsel claims it is already representing five Alabama judges who will not be issuing licenses to gay couples tomorrow.
Read Moore's full order below:
Update: Gay Inc. reacts
Stmt from @HRC calling on Ala. probate judges to ignore "lawless" Roy Moore and issue marriage licenses to SS couples pic.twitter.com/pIyeNPI5BK

— Chris Johnson (@chrisjohnson82) February 9, 2015
Roy Moore is trying to create the illusion of confusion in #Alabama, but the only confusion is coming from Roy Moore. #Followthelaw

— Evan Wolfson (@evanwolfson) February 9, 2015
Statement via email from @NCLRights's @Chris_Stoll, atty for two of the AL plaintiffs responding to Roy Moore "order" pic.twitter.com/dRGL5OR8bE

— Equality Case Files (@EQCF) February 9, 2015