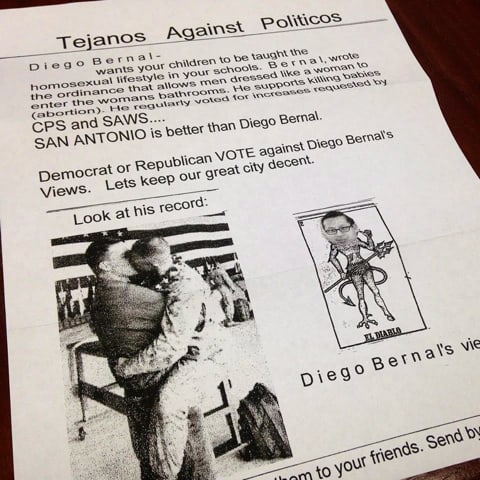 Last month we told you about Nunzio Previtera, the rabidly anti-LGBT Texas House candidate who says God didn't intend people to be gay.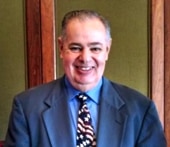 With early voting now under way in his runoff against former Councilman Diego Bernal, who authored San Antonio's LGBT protections, Previtera (right) is at it again. This time, his supporters reportedly are distributing the hateful anti-gay flier shown above. 
OutInSA.com reports: 
A group of supporters of Republican candidate Nunzio Previtera, calling themselves Tejanos Against Politicos, is distributing a flyer to voters in Texas House District 123 that shows two men kissing and former City Councilman Diego Bernal, Previtera's Democratic rival in the race, depicted as "El Diablo," the devil.
The two men kissing, of course, are gay Marines Brandon Morgan and Dalan Wells. So it seems that in addition to Bernal, Previtera's supporters are attacking all military servicemembers. 
But the worst part is that Previtera was endorsed this week by Texas Rebublican Gov. Greg Abbott. From OutInSA.com: 
Governor Greg Abbott rolled into San Antonio on February 11 to offer his endorsement of Nunzio Previtera, the Republican anti-LGBT candidate who's running against Democrat Diego Bernal in the race for Texas House District 123.

The governor spoke to a group of about 150 people who gathered at a local pizzeria off Blanco Road saying, "We don't need another Nancy Pelosi-type Democrat in Austin, we need Nunzio."