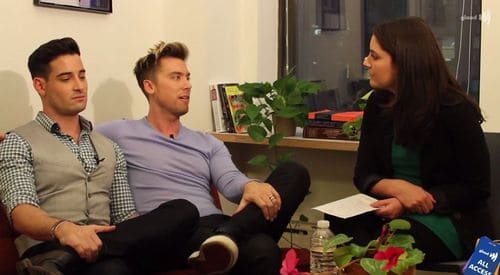 Lance Bass and hubby Michael Turchin sat down with GLAAD: All Access host Claire Pires to discuss their tv special Lance Loves Michael: The Lance Bass Wedding which airs tonight on E!
In the interview, Bass (who grew up in Mississippi) revealed one of the main reasons why he wanted to televise his wedding in the first place:
"Growing up gay in the south is very lonely. So that's one of the main reasons I wanted to do this special was to give hope out there for small town kids to watch this special and let them know that there's nothing wrong with you. You can have this if you want it." 
The two also dished on the funny story of Turchin's proposal, the "humorous" planning that went into the wedding itself (which will be America's first televised same-sex wedding special) and on Lisa Vanderpump of Real Housewives of Beverly Hills being "appalled" at the state of their kitchenware before the big day. 
Later, the two shared why marriage means so much to them.
Said Bass:
"Once you're able to say 'husband' it just means so much more. And it means much more to everyone else. Because they treat you differently, they really do. They take you seriously. Then the next question is 'When are you having kids?' You feel like a whole human being….completely liberated, a whole person. No longer a second class citizen anymore – to be able to say 'husband' instead of 'civil partner'"
Bass and Turchin also did a separate interview with Meredith Vieira where they discussed their support for Alabama state Rep. Patricia Todd's pledge to "out" anti-gay lawmakers having extramarital affairs. 
Watch, AFTER THE JUMP…
Lance Loves Michael: The Lance Bass Wedding airs tonight at 8/7c on E!