Chris Christie has issued a quick clarification on his position on measles vaccinations after made headlines this morning for saying parents "need to have some measure of choice" about vaccinating their kids against the virus.
The New York Times reports: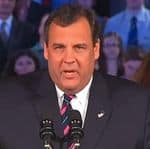 Mr. Christie, when asked about the connection between the new measles cases and parents who object to the long-recommended vaccine against it, said that he and his wife had vaccinated their four children. He called that "the best expression I can give you of my opinion."
But he added: "It's more important what you think as a parent than what you think as a public official. I also understand that parents need to have some measure of choice in things as well. So that's the balance that the government has to decide."
Mr. Christie said that "not every vaccine is created equal, and not every disease type is as great a public health threat as others."
NPR reports that there have been over 80 cases of measles this year – already more than the U.S. typically sees all year. Health experts say the current outbreak can be traced to people who haven't been properly vaccinated. 
Here's Christie's clarification on the matter:
To be clear: pic.twitter.com/pA4iCgL7xi

— Governor Christie (@GovChristie) February 2, 2015