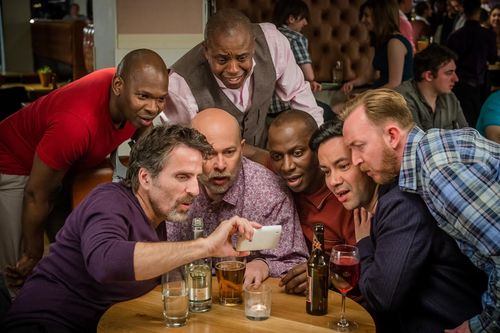 Stateside fans of Russel T Davies who've been itching to see his new interconnected UK gay dramas Cucumber and Banana are set to get a a surprise sneak peak following the season premiere of RuPaul's Drag Race this Monday on Logo.
Via press release:
The two interwoven drama series will explore 21st century gay life in all its powerful, witty, dark and uplifting guises through the lens of two disparate generations. The hour-long Cucumber will explore the lives and misadventures of Henry Best (Vincent Franklin) and his long-suffering boyfriend of nine years, Lance Sullivan (Cyril Nri). The half-hour Banana will follow the individual lives of younger characters orbiting around Henry's world, telling stories of modern love – the romantic, the obsessed, the hopeful, the lonely, the lost, and the lucky – in an urban Manchester, England setting. 
Watch a brand new Banana clip of the show's heartbreaking opening scene, AFTER THE JUMP…
The first episodes of Cucumber and Banana will air after RuPaul's Drag Race next Monday, March 2 at 10pm ET/PT. The two shows will then return for their official season premieres on April 13.