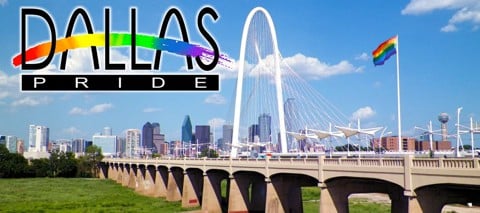 After three hours of debate, a Dallas pension board voted Tuesday to recognize the same-sex marriages of city employees — contingent on approval from the City Council and the city attorney. 
Despite a lack of leadership on the issue from Mayor Mike Rawlings, the board voted 6-0 to approve the compromise between members who wanted to recognize out-of-state same-sex marriages, and those who felt the decision should be left up to voters. 
The city attorney and City Council are expected to sign off, paving the way for Dallas to join Austin, Fort Worth, Houston and Plano in recognizing same-sex marriages and providing equal retirement benefits to the spouses of gay employees. 
The Dallas Morning News reports: 
Again and again, different variations of the effort to include same-sex marriages in spousal benefits failed in deadlocked votes. Then, after three hours of discussion and some harsh words, a deal was struck. … 





Dallas' two pension boards — the Employees' Retirement Fund and the Police and Fire Pension Board — have been among the last city entities to extend same-sex benefits, after the City Council passed a resolution nearly a year ago calling for LGBT equality in all city operations. … 

The pension boards have grappled with what they say is a legal gray area between a Texas ban on gay marriage and a 2013 U.S. Supreme Court ruling requiring the Internal Revenue Service to recognize same-sex marriages from any state, regardless of where the couple lives.
A federal district judge struck down Texas' marriage ban last year, but stayed his decision pending the state's appeal to the 5th Circuit, which heard oral arguments last month. 
In Houston, anti-LGBT activists sued the city and Mayor Annise Parker over her decision to recognize employees' out-of-state same-sex marriages. But that lawsuit is on hold pending the outcome of the Texas marriage case. 
Tuesday's vote would provide equal pension benefits to gay civilian employees in Dallas, but not police or firefighters. The city's Police and Fire Pension Board is scheduled to discuss the issue Thursday.