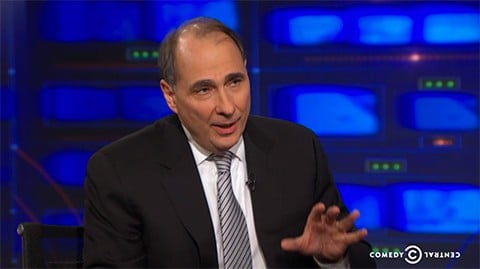 Yesterday, we reported on David Axelrod's new book and the claim he makes that President Obama supported same-sex marriage long before he publicly came out in favor of marriage equality in 2012. You'll recall Obama listed his support for same-sex marriage on a 1996 questionnaire when he was a candidate for the Illinois state senate. In an interview with Jon Stewart last night, Axelrod described Obama's decision to go back in the closet so to speak on gay marriage during the 2008 election, publicly opposing marriage equality, as a move that was pragmatic and necessary to moving gay rights forward.
[He's ended] up moving gay rights more than any president ever has. He got rid of Don't Ask Don't Tell, got rid of DOMA (Defense of Marriage Act) and ultimately put gay marriage in a position to succeed. So, you know, that's part of what you have to do in politics. But that is different than the small politics of Washington that we get so consumed in that has nothing to do with anything in the long term.
Meanwhile, in an interview with BuzzFeed, President Obama attempted to refute the notion put forth by Axelrod that he was "bullsh-tting" his position on same-sex marriage in 2008:
Axelrod wrote in his new memoir that Obama "modified" his position because his aides worried about alienating black Christian leaders, and then complained that he didn't like "bullsh-tting" voters about it.
"I think David is mixing up my personal feelings with my position on the issue," Obama said. "I always felt that same-sex couples should be able to enjoy the same rights, legally, as anybody else, and so it was frustrating to me not to, I think, be able to square that with what were a whole bunch of religious sensitivities out there."
Obama said he believed at the time that civil unions were "a sufficient way of squaring the circle," but that "the pain and the sense of stigma that was being placed on same-sex couples who are friends of [his]" changed his mind.
"I think the notion that somehow I was always in favor of marriage per se isn't quite accurate," Obama said. "The old questionnaire … is an example of struggling with what was a real issue at the time, which is, how do you make sure that people's rights are enjoyed and these religious sensitivities were taken into account?"
The rapid change in Americans' attitude toward gays and lesbians may be the most marked generational shift of Obama's tenure.
Watch Axelrod's interview with Stewart in two parts (the second of which feature his comments on same-sex marriage and gay rights), AFTER THE JUMP…