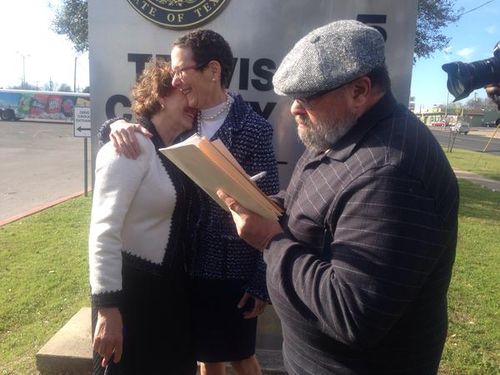 (twitter)
A couple in Austin have just obtained the first same-sex marriage license in Texas, The Austin American Statesman reports:
Sarah Goodfriend and Suzanne Bryant, together almost 31 years, said their vows before Rabbi Kerry Baker while standing in front of the Travis County Clerk's Office sign on Airport Boulevard.
The couple was denied a license in the same office building eight years ago.
But on Thursday morning, state District Judge David Wahlberg, petitioned by a lawyer for Goodfriend and Bryant, ordered Travis County Clerk Dana DeBeauvoir to grant the couple a marriage license.
The ceremony was a mix of personal – with friends and their teenage daughters, Dawn and Ting, standing nearby – and public statement, with photos of their vows in front of the county sign.
"It's very exciting," Bryant said before the wedding. "My little one was worried about missing her history class. I said we'll be making history."
The news comes two days after a Travis County probate judge issued a ruling striking down the state's ban on same-sex marriage. A federal judge struck down the ban last February – a decision that is currently before the Fifth Circuit Court of Appeals. 
It appears this may be the only same-sex marriage performed in the state at the moment:
#TravisCounty clerk says she received a court order from a district state judge to perform this ONE #samesexmarriage

— Texas Standard (@TexasStandard) February 19, 2015
By court order Travis County Clerk issues marriage license to same sex couple. Any licenses issued to same sex couples must be court ordered

— Travis County Clerk (@TravisCoClerk) February 19, 2015
Watch Goodfriend and Bryant's emotional reaction to the federal judge's ruling last February, AFTER THE JUMP…(warning: autoplay). We've also included Travis County Clerk Dana DeBeauvoir's interview with local radio station KUT on the circumstances surrounding the license.
Developing…