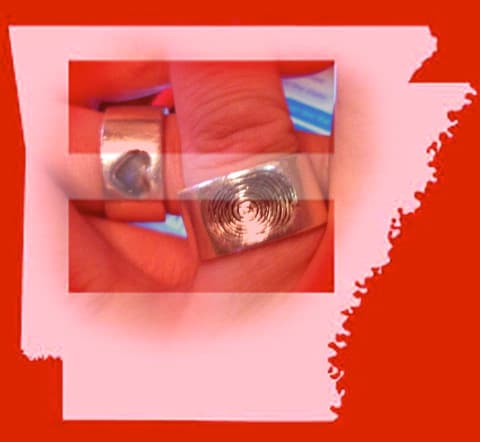 Two Arkansas same-sex couples filed a lawsuit Friday against the state attorney general seeking to have their "window" marriages recognized. 
The couples were among about 600 who wed during a weeklong period in May after a circuit court judge struck down the state's marriage ban, and before the Arkansas Supreme Court put the ruling on hold. 
The Washington Blade reports: 
One of the plaintiff couples in the case is Angelia Frazier-Henson and Katherine Henson; the other is Markett Humphries and Dianna Cristy. Both are Pulaski County residents and wed on the first day same-sex marriage was available in Arkansas.

According to lawsuit, the state requires these plaintiffs to "commit a Class C felony in order to comply with Arkansas law requiring the filing of individual income taxes." To make things more complicated, Humphries is a law enforcement officer and committing perjury "could result in the loss of her employment."

The lawsuit alleges that denying recognition of these couples' unions violates their right to due process and equal protection under both Arkansas Constitution and the Fourteenth Amendment to the U.S. Constitution. The litigation calls for the court to enjoin Arkansas from enforcing its ban on same-sex marriages with respect to couples who wed during that week-long period in May. 
The Blade notes that the federal government has never announced it would recognize the Arkansas marriages, even though it has done so for so-called window marriages in other states, including Utah, Michigan, Wisconsin and Indiana. 
In November, a federal district judge also struck down Arkansas' marriage ban, but put the decision on hold pending the state's appeal to the 8th U.S. Circuit Court. 
In related news, Arkansas LGBT advocates staged a love-in Saturday afternoon outside the governor's mansion to protest a bill banning local nondiscrimination ordinances. The bill has passed both the House and Senate, and Republican Gov. Asa Hutchinson says she plans to allow it to take effect without her signature.
Ground zero for LGBT equality may have just shifted from Alabama two states to the west. 
Read the Arkansas' couples lawsuit seeking recognition of their marriages below:
255702036-60CV-15-569-Complaint