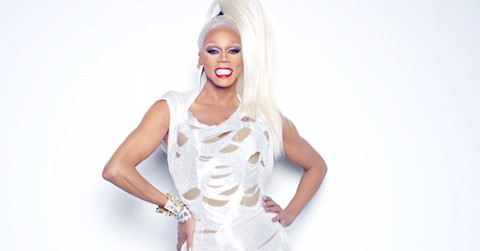 From Ru's rise to prominence in the early '90s to the multimedia brand he's become today, RuPaul Andre Charles has become a subversive pop-culture institution, a guide to learning to love yourself and one of the most iconic bastions of all things glam. From film to television to music and makeup, Ru has broken barriers and, seemingly against all odds, bent mainstream culture to his will.
Prior to the empire though, RuPaul was just a punk kid in 1980s Atlanta. From the underground scene, Ru first began with gender-fuck before evolving his drag look into the striking beauty we know today. After his single "Supermodel (You Better Work)" became a hit on MTV, the Ru-volution was in full effect. A talk show, film appearances and several more dance albums followed, but they didn't capture the same success. The real ru-surgence (I swear that's my last one) came in 2009 with the launch of RuPaul's Drag Race, one of the most brilliant reality-TV competitions of all time and the cornerstone of the Logo Network.
While critically-lauded and a winner of a GLAAD Media Award, the show did run into some controversy last season. The show has weathered criticisms for using transphobic language, and Ru, adored for his warmth and sensitivity, pushed back in interviews. He shared his feelings following Lance Bass' apology for using the word "tranny" in a 2011 interview with the Huffington Post: "I love the word 'tranny'…And I hate the fact that he's apologized. I wish he would have said, 'F-you, you tranny jerk!'" It was a stance seemingly at odds with the show's open embrace of trans contestants like Sonique, Carmen Carrera and Monica Beverly Hillz during and after the competition. However, it was a segment called "female or she-male" that finally forced the show's hand. Outcry over the mini-challenge led to the pulling of the episode and the loss of the recurring "She-Mail" bit.
With season seven of RuPaul's Drag Race just around the corner, let's take a look back at some of our favorite RuPaul moments, AFTER THE JUMP …
Before Britney demanded it, RuPaul launched "You better work" into the cultural lexicon with his 1993 hit "Supermodel (You Better Work)." The track peaked on the U.S. Billboard Hot 100 at 45 and reached no. 2 on the U.S. Billboard Hot Dance Club Songs chart. The video skyrocketed Ru to stardom in the MTV-era, alongside grunge acts like Nirvana. Kurt Cobain even called it one of his favorite tunes of 1993.
At the 1993 MTV Music Awards (the one where Ru was famously photographed with Cobain), RuPaul courted controversy as a presenter alongside legendary comedian Milton Berle. Allegedly, Berle had been inappropriate with RuPaul backstage, so when they were at the podium, Ru fired off an impromptu read, "So you used to wear gowns, but now you're wearing diapers," to which Berle responded "Oh, we're going to ad lib? I'll check my brain and we'll start even." In his biography, RuPaul talked about how he should have handled the situation differently: "Of course, what I should have done backstage is told him 'Get your dirty hands off of me, you motherfucker!', and then gone out there and been Miss Black America."
Coming off the success of "Supermodel" (and his cover of "Don't Go Breaking My Heart" with Elton John, which hit no. seven on the UK Singles Chart), VH1 launched The RuPaul Show in 1996. Over the course of the talk show's 100 episodes, there were many guests — including Ru's idol, Diana Ross — but one of our favorites was Tammy Faye-Messner, above.
The 2009 debut of RuPaul's Drag Race season one is nearly unrecognizable to what we know today. Despite the seemingly vaseline-smeared camerawork, the ultra low-budget reality TV competition still pitted aspiring drag queens against one another in a series of challenges based off of RuPaul's own career path, judging them on their fashion sense, interview abilities, lip syncing and, of course, charisma, uniqueness, nerve and talent. Although the aesthetic wasn't as polished, the show balanced an uncanny ability to skewer popular TV tropes from series like Top Model, Project Runway and American Idol while still maintaining a tremendous amount of heart.
Today, Drag Race is a certified phenomenon, spawning an All-Stars edition, an Untucked after-show and three seasons of straight women makeover show, Drag U. Not only is it introducing drag culture to a much wider audience (the season five premiere, for example, netted 1.3 million viewers on premiere night), but it's also making its contestants, like winners Jinkx Monsoon, Sharon Needles and Bianca Del Rio, nationally-known performing superstars. Monsoon's show, The Vaudevillians, received rave reviews from The New York Times and was extended several times through its initial run.
What is your favorite RuPaul moment?