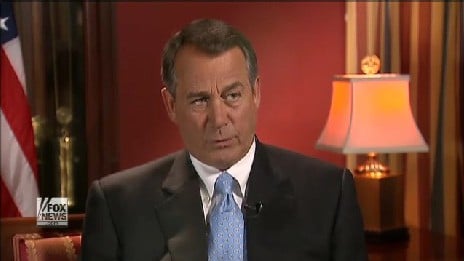 At a news conference earlier today, House Speaker John Boehner (R-OH) announced the House GOP would not intervene in the upcoming same-sex marriage cases set to be heard before the Supreme Court later this year. 
Back in 2011, Boehner helped spearhead the Republican-controlled Bipartisan Legal Advisory Group to defend the Defense of Marriage Act before the Supreme Court after the Obama Administration announced it would not do so. BLAG went on to waste more than $2 million in taxpayer money in its failed attempt to keep the federal government from having to recognize legal same-sex marriages. 
The Washington Blade reports:
"I don't expect that we're going to weigh in on this," Boehner said. "The court will make its decision and that's why they're there, to be the highest court in the land." […]
Evan Wolfson, president of the LGBT group Freedom to Marry, said House Republicans made a "commendable decision" not to participate in the marriage cases this time around and called it "a real step forward" after defending DOMA in court.
"Their evolution reflects the momentum for the freedom to marry nationwide, as well as the quiet hope of most Republican officials and operatives that the Supreme Court will rule in our favor and bring the country to national resolution, thereby rescuing them from their prior stance against the freedom to marry," Wolfson said. "They know their past pandering to part of their base is way out of step not only with a majority of the American people and independents, but with Republicans under 50 and even with young Evangelicals." 
The Blade adds House Democrats are expected to file a friend-of-court brief before the Supreme Court supporting the freedom to marry.