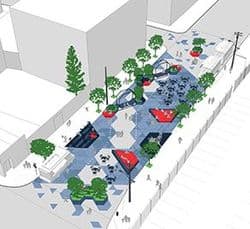 The city of San Francisco is in early talks about the creation of a small park located near the site of city's old Eagle Tavern that would be inspired by and dedicated to the queer leather community. "Eagle Plaza," as its being called now, would be located in the heart of the city's South of Market neighborhood, repurposing sections of Harrison and Bernice streets.
More green space the park, Eagle Plaza would become an official LGBT cultural heritage landmark and feature gathering public gathering spaces, a jungle gym, and an area for food trucks.
"There is a lack of public space like this in this area. It is very much needed," neighborhood bar owner Alex Montiel explained to the Bay Area Reporter. "Something like this is very much needed for anybody who lives around here. There are no parks nearby."
Stylistically the park would bear subtle nods to its leather-themed namesake, featuring benches styled after those found in bars, and a general blue, black and white color-coded motif.