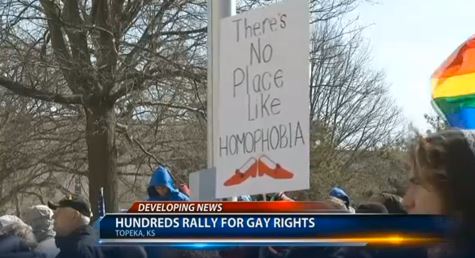 It used to be a tradition for same-sex couples to protest marriage bans on Valentine's Day — often by requesting licenses from clerk's offices. 
But now that marriage equality has arrived in 37 states, the focus has shifted. 
Instead of seeking legal recognition of their relationships, LGBT people are demanding that they be protected against discrimination based on who they are and who they love. 
On Saturday, activists in Arkansas and Kansas spent part of their Valentine's Day protesting decisions by Republican governors that effectively sanction anti-LGBT discrimination. 
In Kansas, nearly 1,000 people gathered outside the statehouse to protest Gov. Sam Brownback's decision to rescind an executive order protecting LGBT state employees. The Kansas rally featured some colorful signs and costumes. 
In Arkansas, about 70 people gathered outside the governor's mansion to call on Gov. Asa Hutchinson to veto SB 202, which would prohibit cities from passing LGBT protections. 
View more images and watch news reports on the two rallies, AFTER THE JUMP …