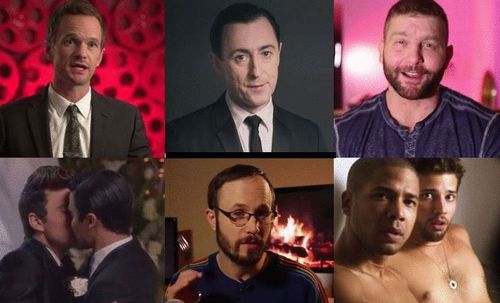 Need a refresher on all the informative, uplifting, sexy, and entertaining LGBT videos from this past week?
Look no further as we count down the best of the best, AFTER THE JUMP…
15. 'The Walking Dead' Introduces Its First Openly Gay Male Character
Fans of The Walking Dead got their first glimpse of what might be the show's first openly gay male character on last Sunday's episode with the introduction of Aaron. A survivor living within the Alexandria safe-zone, Aaron is openly gay in the comic books, so fans will be looking to see if the show emulates this on screen. 
14. These Three Bears 'Say a Little Prayer' For You
This video first debut on Towleroad back in 2009, but it has since resurfaced and is making waves as Glee begins its final stretch of episodes before the series finale. Bears Jason Whipple (front), Josh Cheon (left), and Mark Louque (right) perform Dianna Agron's version of 'I Say a Little Prayer.' Priceless.
13. Gay Rugby Star Gareth Thomas Reacts to the 'Coming Out' Scene in New Play About His Life and Career
Crouch, Touch, Pause, Engage tells the story of Welsh rugby legend Gareth Thomas's journey towards self-acceptance and field glory. BBC caught up with Thomas while he was watching his "coming out" to his wife reenacted on stage. Check it out below:
12. Mike de Marko, Bennett Anthony and the Men of Men.com Tell You About Their Worst Dates Ever
Still reeling from a less-than-perfect Valentine's Day weekend? Take heart knowing that bad date experiences happen to even the most sexually skilled among us.
11. Michael Sam Talks Closets Athletes, Says He Doesn't Believe Being Gay Has Kept Him Off NFL Roster
The first openly gay player to be drafted in the league, Michael Sam set the record straight, so to speak, about his decision to come out and what he believes has stopped him from being signed to one of the NFL's 32 teams in an interview with Sports Illustrated's MMQB blog.
10. Lee Daniels Discusses Homophobic Audience Reaction to Gay Kissing on 'Empire' 
Writer, director and producer Lee Daniels recently talked about watching focus groups react to same-sex kissing on his new show, Empire. Daniels referred to the dial technology used by focus groups to give instant feedback as to whether they love or hate something. So how did the majority of those in the focus group first react to a gay kiss on Empire? Not very well it seems…
9. Openly Gay 60s Teen Idol Lesley Gore Passes Away at Age 68
60s teen idol/pop icon Lesley Gore, best know for her classic songs ""It's My Party (I'll Cry if I Want To)" and "You Don't Own Me," passed away Monday at the age of 68. Gore came out publicly as a lesbian back in 2005. Check out a 1965 performance of "It's My Party" on the Hollywood A Go-Go music variety show below:
8. Pastor Rob Bell Talks to Oprah About Christianity Being 'Moment's Away' from Embracing Gay Marriage
Popular (and controversial) evangelical pastor Rob Bell appeared on Oprah's Soul Food Sunday last weekend and shared why marriage is so important – for gay and straight people alike. 
Said Bell:
"One of the oldest aches in the bones of humanity is loneliness….Loneliness is not good for the world. And so whoever you are, gay or straight, it is totally normal, natural and healthy to want someone to go through life with. It's central to our humanity. We want someone to go on the journey with."
Watch his interview with Oprah below (gay marriage talk starts at the 29:00 mark)
7. Bullied Trans Boy Asks for Support in Video Declaring He No Longer Wants to Live as a Girl
If you haven't already seen this incredible video of 9-year-old trans boy Milla Brown, do yourself a favor and watch it. Brown's family stands as a model for how to handle a trans child – with love and support on top.   
6. Neil Patrick Harris Takes You on A Behind-the-Scenes Look at His Magical and Musical Oscars
Ready for the 87th Academy Awards tonight? NPH is. 
5. Kate Brown Sworn In As the Nation's First Openly Bisexual Governor
The state of Oregon inaugurated the nation's first openly bisexual governor Monday when former Oregon Secretary of State Kate Brown was sworn in. Gov. Brown replaced scandal-ridden former Gov. John Kitzhaber. Brown cited her husband Dan Little as her "rock" at her inauguration. 
4. Alan Cumming Challenges Gay Men to be Celibate for One Year
Alan Cumming challenges you to take the Celibacy Challenge: 365 days of no sex so you can comply with the FDA regulations that forbid sexually-active men from donating blood. Think you could pass the test?
3. Focus on the Family is Freaking Out About the Supreme Court's Upcoming Gay Marriage Ruling
The anti-equality crowd knows they've lost the marriage fight. They're just not ready to admit it yet…
2. Matt Baume Serves Up a Delicious Fireside Chat on Why Bakeries Must Sell Wedding Cakes to Gay Couples
The always eloquent and entertaining Matt Baume released a yummy new video this week on why bakeries in certain states have to sell wedding cakes to same-sex couples, why bakeries aren't forced to bake cakes with slurs or hate messages, and what's really at stake in all these "cake wars" going on across the country. Dig in below:
1. Two Gay Couples Tied the Knot on Friday's 'Glee' Wedding Spectacular
Sure many of us might not be the Gleeks we once were, but Friday's episode of Glee was a terrific reminder that the show still has a few surprises up its sleeve this final season. Kurt and Blaine, one of the first young gay couples television audiences grew to love (remember how groundbreaking and "controversial" it was back in 2010? ), tied the knot in a surprise double ceremony alongside cheerleader couple Brittany and Santana.
The series finale of Glee airs March 20.