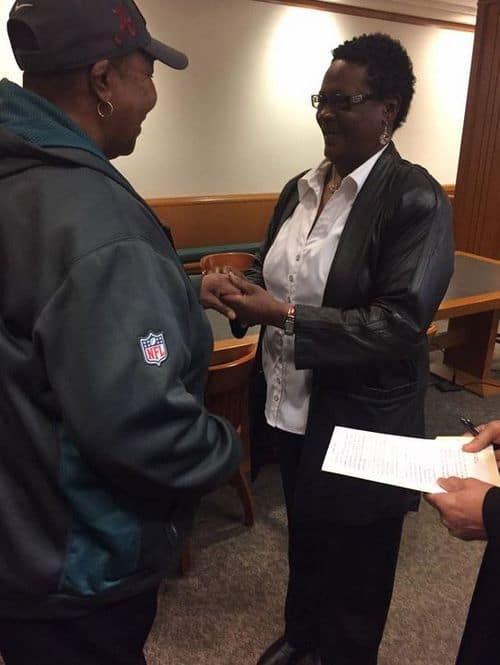 (twitter)
Alabama has become the 37th state to allow same-sex couples to marry. 
Pictured above are Olanda Smith and Dinah Mccaryer. Fox6's Clare Huddleston is live tweeting the couple exchanging vows and rings:
They have tears in their eyes. They are saying "I take you as my spouse" (judge gave them option to say wife) pic.twitter.com/DXOFZj0XRa

— Clare Huddleston (@Fox6Clare) February 9, 2015
Marriage license signed pic.twitter.com/eWb4peA6Nt

— Clare Huddleston (@Fox6Clare) February 9, 2015
Many other same-sex couples are lined up in courthouses across the state waiting to tie the knot. 
Alabama marriage plaintiffs Cari Searcy and Kim McKeand are in Mobile applying for a license:
Plaintiffs Cari and Kim in #Mobile, #Alabama applying for #marriage license! (via http://t.co/KiL1KBpUxh) #ALMarriage pic.twitter.com/KJMjTidgR4

— Equality Alabama (@equalityalabama) February 9, 2015
Openly gay state Rep. Patricia Todd is also in Birmingham to cheer on same-sex couples at the courthouse:
State rep Patricia Todd just arrived at courthouse. pic.twitter.com/SbkqhBudeP

— Clare Huddleston (@Fox6Clare) February 9, 2015
Both HRC and Freedom to Marry are running live updates on the situation in the state. 
Equality Alabama and the ACLU of Alabama, meanwhile, are asking anyone who is experiencing problems/obstructions to call their hotline at 334-265-2754.
Officiant offers to marry couples #KscopeNews pic.twitter.com/AzfB8IohbY

— Casey Marley (@Casey_Marley) February 9, 2015
Congrats to the happy couples!
More incoming photos, AFTER THE JUMP…
Cooper and Jessie – together 26 years – receive #marriage license in #Alabama! #ALMarriage http://t.co/oPBJj531DC pic.twitter.com/pcJSmSMt2P

— Equality Alabama (@equalityalabama) February 9, 2015
Baptist minister marries 1 of first couples in #Birmingham, Cooper & Jessie: #ALMarriage http://t.co/oPBJj531DC pic.twitter.com/cDbBEAIkud

— Equality Alabama (@equalityalabama) February 9, 2015
First couple wed in Birmingham, #ALMarriage Dee and Laura Bush http://t.co/t4ox8WB3de #LoveCantWait via @HRC pic.twitter.com/vjLAuwQmLt

— HumanRightsCampaign (@HRC) February 9, 2015