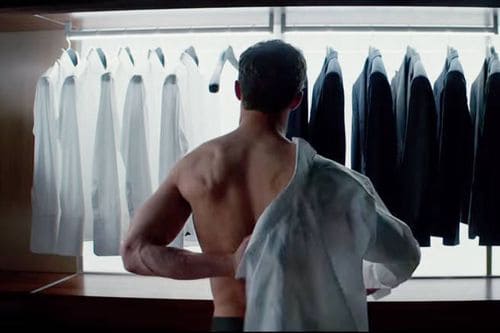 What should Jamie wear today? Nothing! All his clothes are the same anyway 
SPOILER ALERT: Nothing happens in 50 SHADES OF GREY. Nothing at all. The property's idiot savant genius may be how well it achieves this tabula rasa narrative and aesthetic zen state. Its slate is so blank that the audience is free to project whatever they'd like on to it including the drama. BYOE: Bring Your Own Everything. Perhaps this accounts for its enormous "event" like status at the box office. 
We begin with an embarrassingly botched interview between a young woman who we're supposed to think of as a frumpy plain jane, an unstylish deer in the headlights if you will, and the snappily dressed über intimidating businessperson who will decide her fate. (Think The Devil Wears Prada plus sexual tension minus jokes). Naive and beautiful young Anastasia Steele (Dakota Johnson), her name apparently downloaded from a romance novel generator, has gone to see the young billionaire Christian Grey (Jamie Dornan) but she's not actually supposed to be there. She's doing it as a favor for her sluttier worldly BFF Karla (think streetwise Kit to impossibly virginal hooker Vivian in Pretty Woman) who happens to be sick on the day of her interview with the college's most successful alumnus/eligible bachelor. 
So our leads meet quite by accident. Is it fate? Will it get kinky? ANSWERS AFTER THE JUMP..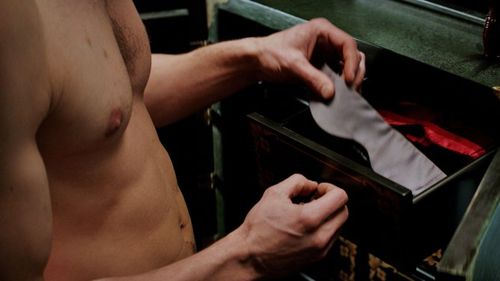 In the movie's first unintentional laugh (of many) we learn that Ana, who has great difficulty with Karla's simple written questions, as if she's just now learning that those funny scratch marks on papers form "words", is in fact a literature major. Though Ana is an awkward and absolute bust as a journalist, and Mr Grey is an overachiever with zero-percent body fat who appears to have no patience for fools and reminds her that she has just 10 minutes, he falls hard and instantly. Do not search for a reason! (Provide your own as befits the BYOE ethos).
My best guess, and only because he mentions it, is that Christian likes the way Ana bites her lip. This lip nibbling is her one defining affectation. (If you took a shot each time she does it — and it'd be wise to sneak drinks in — you'd be drunk before the first sex scene.) But mostly Ana has no defining characteristics besides her naiveté and lip-biting. She's the perfect blameless empty vessel heroine in which the audience may flatteringly place themselves. In fact, the only thing non-generic about Dakota Johnson in the starring role is how instantaneously she recalls both of her famous parents: she looks like Daddy Don Johnson and sounds quite a lot like Mommy Melanie Griffith. Miraculously in a casting coup, she could also pass for the genetic offspring of her screen mother Jennifer Ehle.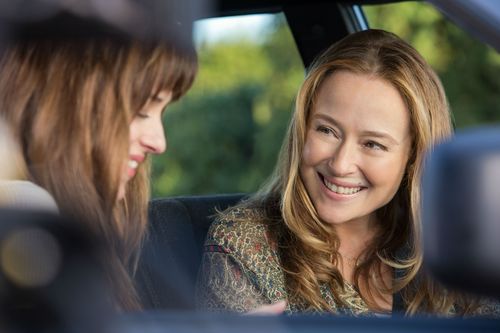 Jennifer Ehle and her counterpart Marcia Gay Harden, both ever dependable character actresses, have more fun than you'd expect as Ana and Christian's moms, respectively, considering that they're given next to nothing to work with. This movie is a conflict-free zone. Multiple scenes that in a normal movie might signal  "forthcoming drama!" like episodes wherein Christian meets Ana's family and friends or when Christian introduces Ana to his mother, just recede as they've begun like innocuous commercial breaks between sex scenes.
Even in the sex scenes, conflict is hard to come by. And conflict is the life blood of storytelling.
Like Mr. Grey's glassy stark office and gorgeous minimalist home, both photoshoot ready as if no one has ever touched anything except to remove the price tags, the sex scenes are drained of humanity. It's impossible to imagine these bodies sweating or producing fluids of any kind. The movie is so sterile that you could quite reasonably and safely perform  operations in Christian's "playroom" which looks more like a well stocked catalogue for S&M merchandise than a room where dozens of women have been tied up and pleasured over the years.
Given that the story IS the affair, one would hope for some escalation of effect. Perhaps the sex scenes will grow raunchier, more risqué, increasingly nude, or more dangerous feeling as the movie progresses? No such luck.
Each heavily cut sex scene progresses in basically the same way: Christian strips Ana bare, binds her hands and/or instructs her to hold them up away from the action, and pleasures her intensely (implied multiple orgasms) with either his mouth or penis (both out of frame) or with very light toy play like slowly dragging across her body. Dornan's perfect ass gets a beautiful cameo and a suggestive thrust or two. In the theater in which I saw the film only one shot from the movie's multiple sex scenes elicited a small gasp from the crowd and that was a quick flash cut to Mr. Grey unbolting his pants for a very brief shot of pubes and the top of his shaft. After the movie I heard a group of girlfriends (with one guy) laughing about this shot, calling it "dick cleavage" and hoping it would become a trend in more movies. (Good luck with that. In Hollywood men are far more likely to have superpowers.)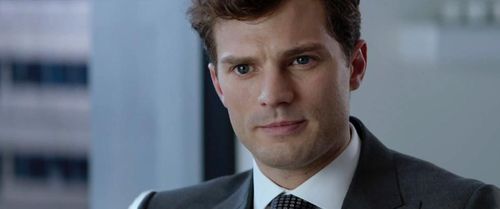 Most of the film turns out not to be a sex movie but a largely innocuous wealth fantasy: Date Night With the Billionaire: The Movie. Christian wines and dines Ana, takes her on adventures, buys her expensive gifts, introduces her to his family, and occasionally makes love to her. When he's not doing any of those things he's constantly telling her that "I don't do romance. I don't date." and "I don't make love, I fuck"  I could never claim to be an expert on dating, romance or sex (been off the market too long) but unless things have changed drastically since I met my boyfriend, Christian is really really confused about what all of those words mean.
Christian's only character flaw apart from this constant word confusion — he's gorgeous, considerate, well educated, superhero-wealthy, romantic, plays the piano!, and is obviously a great lay — is that he pretty consistently informs his new girlfriend that he wants her to sign a dominant/submissive contract and basically own her body. Which is…okay, owning people is wrong. That's a deal breaker, ladies. But since Christian takes Ana into his playroom (where all his S&M gear is) pretty consistently throughout the movie and does nothing but pleasure her, what is it exactly that she's objecting to? 
At one point late in the movie, we realize along with Ana that Christian would like to spank her or some such and she asks him not to hold back. It's the only way she'll understand! Cut to: Christian flogging her extremely briefly — and with far less force than you've ever seen anybody hit anybody else on a movie screen — and Ana crying with disgust like this was the unforgivable final straw after all those multiple orgasms and expensive gifts. She wants no part of this well appointed surgically clean ultra safe freakshow!
They break up! OR DO THEY…?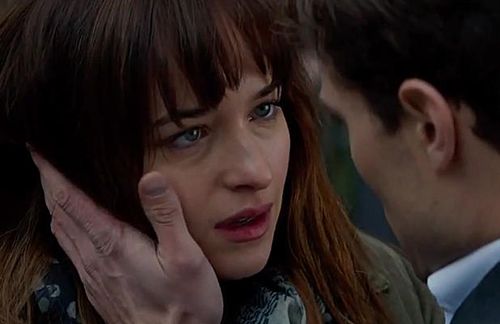 I am embarrassed to report that I was so unaware of the 50 Shades of Grey phenomenon apart from its title, basic premise and popularity that I didn't realize until after the movie ended that it's meant as a franchise rather than a standalone; the movie's cockteasing suddenly made sense. I wish I could report that 50 Shades of Grey was so bad it's good but it's too dull for that. "Bad movie we love" cult status will be hard to achieve unless the sequels are funnier/worse. In fact, only one scene seems to rise to the camp challenge. The movie's inarguable high point is a protracted "business meeting" between Christian and Ana about their forthcoming sex. She keeps giggling, as if she can't quite take it seriously (join the club, Ana!) and he is all business. It's also here where we get the movie's most hilarious dialogue.
"Genital clamps? Under no circumstance!" and the instant classic: "What are butt plugs?"
Aside from the camp value of this one scene and hilariously "subtle" details like Ana's oral fixation with a pencil with the "Grey" logo on it, it's just not dramatic enough to get away with its tame sex and not sexy enough to get away with its tame drama and not funny enough to get away with its stalling. It's not a movie with a story so much as a dull PG-13 pilot which is introducing all the characters who may or may not have conflicts with each other in some future movie… if you keep buying tickets. HBO and Showtime would probably turn it down for its tameness preferring to stick with the far more explicit and provocative sex scenes in Looking, The Affair, Game of Thrones, Masters of Sex, and so on. 
Nathaniel Rogers would live in the movie theater but for the poor internet reception. He blogs daily at the Film Experience. Follow him on Twitter @nathanielr.