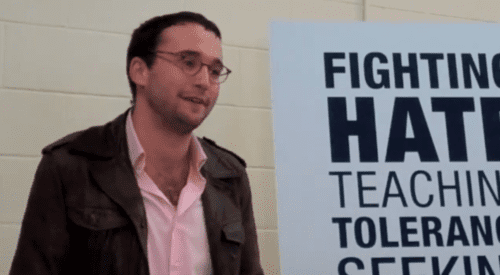 Superior Court Judge Peter Bariso has handed down a decision regarding a New Jersey-based organization's characterization of homosexuality as an ailment in its marketing for conversion therapy treatments. On its website Jews Offering New Alternatives for Healing (JONAH) describes itself as a non-profit organization that "works with those struggling with unwanted same-sex sexual attractions (SSA)."
Chaim Levin and Benjamin Unger, two of the plaintiffs named in the consumer fraud lawsuit filed against JONAH, recounts an experience that's better described as humiliating sexual abuse. During sessions with Alan Downing, a JONAH counselor, Levin was made to list negative things about himself while removing his all of his clothing, and then instructed to touch himself. The process, Downing explained while observing (and also naked), was designed to cure Levin of his homosexuality. Other treatments included beating an effigy of one's mother while screaming and spending more time in the gym with other men.
Though the very concept of reparative therapy is as backwards as it is dangerous, Judge Bariso's ruling specifically took to task JONAH's business practices, calling the organization out for violating New Jersey's Consumer Fraud Act. The organization provided data meant to persuade potential clients that its reparative treatments were effective, something that multiple clinics do despite the many instances where "cured" gays admit to they haven't changed. That data, Bariso reasoned, was tantamount to misrepresentation and fraud.
"For the first time, a court has ruled that it is fraudulent as a matter of law for conversion therapists to tell clients that they have a mental disorder that can be cured." said David Dinielli, deputy legal director of the Southern Poverty Law Center. "This is the principal lie the conversion therapy industry uses throughout the country to peddle its quackery to vulnerable clients. Gay people don't need to be cured, and we are thrilled that the court has recognized this."
Going forward in an upcoming trail this summer, JONAH will find itself in a difficult legal position given Bariso's decisions up to this point. As Mark Joseph Stern explains in Slate, the SPLC has done an effective job of cutting off the bulk of JONAH's arguments at the knees.
Key to the organization's defense is the central idea that homosexuality is a disorder, an idea that would have allowed them to call a number of expert witnesses on the matter to the stand to defend them. In New Jersey, however, expert witnesses testimony is only permitted regarding "techniques" that are generally recognized as sound by professionals in any given field. The American Medical Association and a number of other medical bodies have thoroughly rejected the legitimacy of conversion therapy. In Bario's opinion on the case, he agreed.
"The theory that homosexuality is a disorder is not novel but—like the notion that the earth is flat and the sun revolves around it—instead is outdated and refuted.
The significance and cleverness of this case cannot be overstated. If Levin and his three co-plaintiffs are successful in their fight against JONAH specifically on the basis of consumer fraud, the decision could set a precedent for conversion therapy clinics across the country.
Read Judge Peter Bariso's full opinion on the case against JONAH's reparative therapy treatments AFTER THE JUMP…