In an uproar over federal court rulings striking down bans on same-sex marriage, Oklahoma lawmakers in the state's House Judiciary Committee voted to release two pieces of legislation that would make it virtually impossible for same-sex couples in the Sooner State to get married. The two bills would have the state discontinue issuing all marriage licenses and also forbid all local and state employees from complying with any federal court's order in favor of same-sex marriage. Tulsa World reports: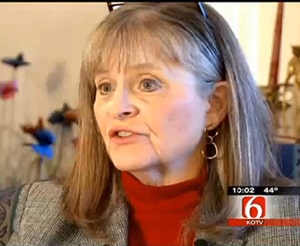 One of the bills' authors, Rep. Sally Kern, R-Oklahoma City, said forcing states to acknowledge marriage equality violates the U.S. Constitution. Kern quoted the Declaration of Independence's reference to "the laws of nature and of nature's God," and said marriages of other than one man and one woman violate both.
Her bill, House Bill 1599, would require the immediate dismissal and forfeiture of pension of any state or local government employee who recognizes, grants or enforces a "same-sex marriage license."
The "Preservation of Sovereignty and Marriage Act," as HB 1599 is styled, also bars the use of public funds for "enforcing any court order requiring the issuance or recognition of a same-sex marriage license," and orders the immediate removal from office of any judge who violates the provisions of the bill.
It also orders state courts to "immediately dismiss" any challenge to the law and assess costs against the plaintiffs.
Finally, it says the act shall remain in effect despite "any contrary federal court ruling."
The bill passed 5-3 along party lines, with one Republican member, Terry O'Donnell of Catoosa, not voting.
The second bill, HB 1125, would redefine how the state recognizes marriages and who would be allowed to officially recognize them: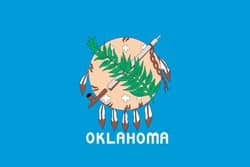 It would do away with marriage licenses, and instead depend on those conducting marriages to submit marriage certificates. Alternately, couples could file affidavits of common-law marriage.
The new language allows judges to perform marriages, as well as clergy or "ecclesiastical dignitaries."
Russ said he proposed the bill to protect court clerks and other government employees who did not want to be involved in issuing marriage licenses to same-sex couples.
Freedom Oklahoma Executive Director Troy Stevenson suggested that these anti-gay bills are a distraction from real woes facing Oklahoma:
"In the same week that we find out that the State of Oklahoma is facing a budget deficit of over $600 million, our lawmakers are wasting time – and taxpayer money – pushing a vindictive agenda against LGBT Oklahomans. The battle for the freedom to marry was long and hard-fought, but it is over, it is decided, and it is high time we addressed the real crisis facing our state. Legislators on both sides of this issue acknowledged at the committee hearing, that these pieces of legislation do not pass constitutional muster. And will trigger costly litigation that Oklahoma cannot afford and will lose. This is a futile effort to hurt Oklahomans and it is time we called this what it is – a mean-spirited distraction from the real problems facing our state."
Looks like Mike Huckabee isn't the only one who doesn't understand the concept of judicial supremacy. Maybe Huckabee and Oklahoma lawmakers should listen to this constitutional law professor explain how it works.