Newly instated Secretary of Defense Ash Carter has appointed an openly gay man, Eric Fanning, as his chief of staff. Fanning currently serves as the Acting Secretary of the Air Force, a post he took over in April 2013. Fanning ascended to that job after first serving as Undersecretary of the Air Force. SDGLN reports: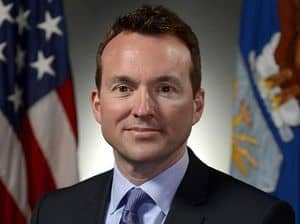 Prior to his Air Force post, Fanning was Deputy Undersecretary of the Navy and deputy director of the Commission on the Prevention of Weapons of Mass Destruction Proliferation and Terrorism, according to the Air Force Times.
Also, Fanning served on the board of the Gay & Lesbian Victory Fund from 2004 to 2007.
The American Military Partner Association (AMPA), which advocates for LGBT military families, hailed the appointment.
"We are thrilled to see Fanning's appointment because of his experience first and foremost," AMPA president Ashley Broadway-Mack said. "Knowing that he's an openly gay man in such an important role is a milestone and a sign of how far we've come, especially when only a few years ago LGB service members could not serve openly."
Defense News adds that Fanning "is widely regarded as an up and comer in defense circles" and is well regarded at the DOD:
Fanning "has had a terrific tenure in the Air Force," said Rebecca Grant, a former Air Force official and president of IRIS Research. "He's really been able to operate across the full range, including being involved in the difficult budget meetings in the Pentagon" over the past several years, she added.