Retired minor league baseball player Jason Burch has publicly come out as gay in a new interview with OutSports. Beginning in 2003, Burch played on various minor league teams over the course of six seasons.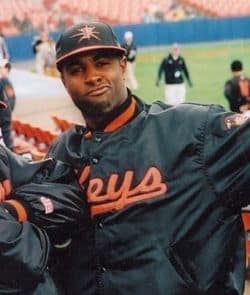 In the interview, Burch says that while he was open about his sexuality to those teammates who asked (one player inquired if Burch had a girlfriend. Burch told him that he did not and that he was into guys), he wasn't as forthright to people who didn't ask him about it directly.
OutSports reports:
"While he described professional baseball as 'like an individual sport,' he relished the opportunity to meet people in the smaller cities and towns away from baseball. He wasn't on ESPN or the front pages of local newspapers, so it was easy for him to take his baseball cap off and meet people – gay and straight – without delving into his baseball career. Unless they asked, he preferred to share who he was, not what he did."
Burch dated men the entire time he played in the minor league, meeting many of them online.
He reflects on how he would handle his openness about being gay if he could do it all over again.
"Looking back, I wish I had told the whole world that I'm gay from day one. That feeling of being relied upon, that people must turn to you as a closer to make things right, to have that role – and to have people have that feeling about me in that role – as a gay man, I think that would have been a powerful message. If we are talking about changing people's opinions, I do think that would have been a powerful message. But I wasn't really thinking about that at the time."
Burch quit baseball in 2008 and received a law degree a few years later. He's now practicing law in Chicago and has been with his partner since 2012.