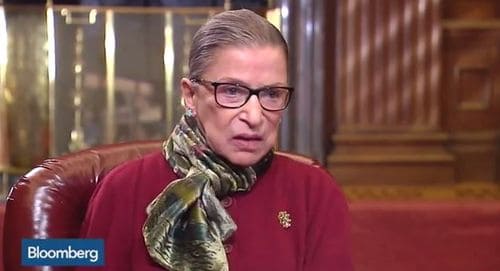 In an interview Wednesday, Justice Ruth Bader Ginsburg said the U.S. is ready for nationwide marriage equality.
Bloomberg reports:
The 81-year-old justice discussed the public's increasing acceptance of gays against the backdrop of resistance by Alabama officials to a federal court order that took effect Monday and made it the 37th gay-marriage state. With the high court set to rule on the issue by June, she said it "would not take a large adjustment" for Americans should the justices say that gay marriage is a constitutional right.
"The change in people's attitudes on that issue has been enormous," Ginsburg said. "In recent years, people have said, 'This is the way I am.' And others looked around, and we discovered it's our next-door neighbor — we're very fond of them. Or it's our child's best friend, or even our child. I think that as more and more people came out and said that 'this is who I am,' the rest of us recognized that they are one of us."
Is Ginsburg merely sharing her own viewpoint on the matter or is she perhaps tipping the Supreme Court's hand ahead of the big decision later this year?
Watch, AFTER THE JUMP…