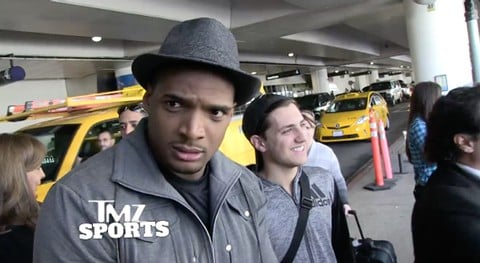 NFL free agent Michael Sam and his fiancé Vito Cammisano arrived at LAX and were immediately confronted by an aggressive TMZ cameraman who began questioning them about their engagement and wedding date.
Sam was prepared though, and began giving the cameraman all the information he wanted. Unfortunately for the photog, he doesn't watch Game of Thrones.
Sam told the photog the couple was getting married in Westeros with Tyrion and Tywin Lannister, and is registered at King's Landing. He also told the photog the wedding date is April 17 (the premiere date for the show).
Said Sam: "Hopefully it will not be at the red wedding though. I will be very upset to be at the red wedding."
The photographer was mystified.
Replied Sam: "Maybe — gay people — you don't know our terminology."
Watch the genius exchange, AFTER THE JUMP…
Last night, TMZ reported that Sam had signed to compete on the upcoming season of Dancing With The Stars.