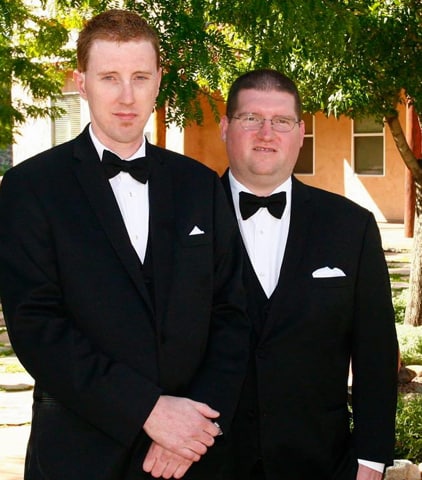 On Monday, a Dallas LGBT newspaper published a post online alleging that churches and ministers in Arkansas had refused to conduct a funeral service for a gay Texas man who died last month.
The Dallas Voice's post also alleged that a local volunteer fire department had refused to allow the family of 32-year-old suicide victim James Stone (above left) to hold a meal at the station after the service, which the department traditionally has done for other families. 
As you might expect, the post quickly went viral on social media, and it was even picked up by Raw Story and The Bilerico Project. But as it turns out, the story isn't accurate.  
The story was based on allegations from Jay Hoskins (above right), Stone's widower. Haskins retracted his allegations about the fire department when it became clear that a family member, not the department, had canceled the meal following the service. Now, pastors at two churches deny Hoskins' claims that he called them to see if they would conduct Stone's funeral. 
The local Gannett-owned newspaper, The Baxter Bulletin, reports:
The circumstances surrounding Stone's funeral on Saturday in Clarkridge have created a hailstorm of controversy, with Hoskins claiming bigotry and hatred on the part of many in the northern Baxter County community, including church and volunteer fire department officials.

Church officials say they never were asked to perform a service for Stone, as Hoskins claims. Fire officials say Stone's relatives canceled a reservation for use of the VFD's building for a fellowship gathering following the funeral. …

A post on dallasvoice.com began the controversial debate, opening with the headline: "Churches in Mountain Home, Ark. refuse funeral for gay man."

Some things, though, have become clear. Only two churches were involved, and neither are in Mountain Home. Stone's father, Wallace, didn't "build" the fire station in Clarkridge, and Stone didn't die of Sjogren's Syndrome. All are assertions made in the post.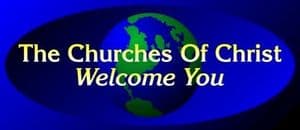 Representatives from both Clarkridge Baptist Church and Clarkridge Church of Christ denied ever being contacted by Hoskins. The pastor at Clarkridge Baptist Church told the Bulletin that if he had been contacted, he would have conducted the funeral. The pastor at Clarkridge Church of Christ, however, said if he had been contacted, he would not have conducted the funeral. 
The only aspect of the story that appears to be true is that two citizens who attended Stone's funeral handed packets containing sympathy cards to Hoskins and others that also contained literature against same-sex marriage:  
The packets also contained more than a dozen pages of religious teachings and biblical verses. In one place, an article entitled "Foundational truths regarding marriage" asserts any marriage other than one between a man and woman is wrong. The article questions if some sexual deviants may petition for human-animal marriages. … 

Vicki Oels confirmed attending the graveside service with her husband, plus delivering the packets.

Oels said a great deal of thought went into what information was included, and that the reason they were delivered was "to teach them the truth about God's word."

"I don't know if it was the right time and location to do it. It was the only time I figured I would have," she said. "My husband and I discussed it, and we thought this is the only opportunity we're going to have to reach those people."
As a journalist covering LGBT issues in Texas, I personally began looking into this story Sunday, when I had a long conversation with Hoskins. However, after quickly determining that his allegations about the fire department were false, I backed off. Not only did it call into question Hoskins' entire account, but to me it would have been the real news, since the fire department is publicly funded. As awful as it may be, churches and ministers have a right to decline to conduct funerals, even though in this case they claim they didn't. At that point, I requested the anti-gay literature Hoskins said he received at the funeral, which he never provided to me. 
Notably, it's not the first time in recent memory that the Dallas Voice has published a story that went viral but turned out to be inaccurate. Last year, the newspaper accused the Tulsa Police Department of failing to investigate the death of a gay man. Tulsa's Channel 9 reported in August: 
The Tulsa Police says a story posted by the Dallas Voice on August 5, 2014 about the death of a gay man in Tulsa contains "false information."

The Dallas Voice calls itself "The Premier Media Source for LGBT Texas." On Tuesday, in a post attributed to Dallas activist C.D. Kirven, it accused the Tulsa Police Department of failing to investigate the death of Benny Longoria, 40. … 

The Tulsa Police Department released a statement about the case, saying the Dallas Voice never contacted anyone with the department, including Sergeant Dave Walker who was mentioned in the story.