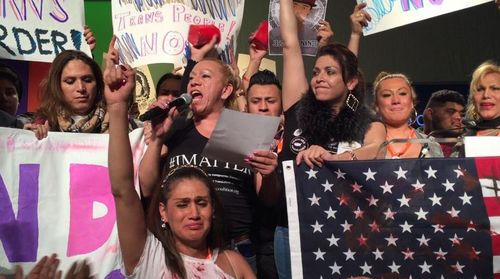 (twitter)
At the National LGBTQ Task Force's Creating Change conference in Denver last night, a group of nearly 100 trans people and allies rushed the stage to bring attention to the death of Jessie Hernandez, a queer Latina who was fatally shot by Denver police during a confrontation over a stolen vehicle last Monday.
The protesters, led by Bamby Salcedo, chanted "Jessie Presente!" as they stormed the stage with handmade signs, The Advocate reports:
Not only did Salcedo demand better accountability on the part of police and the criminal justice system, she also called for LGBTQ organizations to include transgender people on their boards and staffs as decision makers.
"If you serve us, you need to include us," Salcedo said to a crowd cheering and raising their fists in solidarity.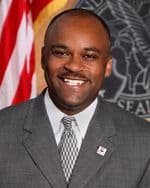 Another demonstrator said Denver police have the second highest rate of law enforcement killings. According to the Center on Juvenile and Criminal Justice, Denver County has the second highest rate of law enforcement killings. 
After the activists vacated the stage, [Task Force deputy executive direcotr Russell] Roybal thanked them for the demonstration and then announced that Denver Mayor Michael Hancock (pictured right) would not address the crowd as planned.
Later, Patrisse Cullors, Opal Tometi, and Alicia Garza, the three co-creators of #blacklivesmatter, chose to forgo a planned speech at the conference and instead use the time to read off the names of at least a dozen trans women who were killed this year in the U.S.
Activists later took to Twitter to voice their frustrations with Mayor Hancock, the Denver Police Department, and the wider issue of police profiling queer youth of color.
If Denver were committed to LGBTQ-POC the mayor wouldn't have left but would have apologized for killing our family. #CC15 #TransLivesMatter

— chrissie (@rissierissie) February 6, 2015
Protestors are challenging foundations, especially #LGBT focused ones, to invest more in #Trans community. #CC15 pic.twitter.com/R4vUFRAyqZ

— Gregory A. Cendana (@gregorycendana) February 6, 2015
@GregVarnum: I was all ready to protest chant the #Denver mayor and he wimps out! *sigh* #Anticlimactic #PentUpActivismEnergy #CC15

— Gregory Varnum (@GregVarnum) February 6, 2015