This weekly travel column is brought to you by ManAboutWorld, an immersive digital premium gay travel magazine from Billy Kolber, Ed Salvato, Kenny Porpora, and nearly 75 Global Correspondents.
We're not really sure why rodeos are assumed to be a straight man's sport. Think about it: a sexy guy in skin-tight jeans hanging on for dear life while a wild, bucking horse or bull tosses him around like a rag doll sounds like a typical Saturday night in West Hollywood to us. But never mind all that. The good news is, we don't need those hetero rodeos because we have our own; and the now legendary Texas Tradition (gay) Rodeo in Dallas, Texas is the best one on the circuit for visitors.
From May 1-3, the rodeo will celebrate 31 years and more than $3 million raised for Texas charities. Whether you're going to enjoy the gay rodeo antics, or protest animal cruelty, it's a great time to visit Dallas and ride a cowboy. Speaking of cruelty, the Park Inn by Radisson is the official host hotel for the event, but our sources tell us it's dingy, dated, and smells like pool hall. Don't despair, we have plenty of incredible hotel recommendations for you including our top pick below. For the event itself, check the rodeo's website for ticket and registration information and a list of events and entertainment as it becomes available. Grab your cowboy hats, boy (and our top 5 list below): You're heading to Texas!  
1. Warwick Melrose Hotel, Dallas: For distinctly classic luxury — and the bill that comes with it — the Warwick remains an outstanding choice for accommodations. The spacious rooms, elegant decor, and location smack dab in the Oak Lawn gay neighborhood make The Warwick a hard splurge to deny. Just be sure to wipe off your cowboy boots before you set foot in this classy joint.
2. The Pecan Lodge: Despite its name, this spot  is a restaurant, which has been voted Best BBQ in Dallas — no easy feat in this carnivorous state — making this a must-do for meat-lovers. Ask for the burnt ends —  a secret treat not on the menu.
3. The Dallas Museum of Art: Dallas offers a treasure trove of cultural assets, including the DMA with a robust permanent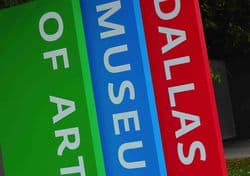 collection (including an important riches of Islamic art), intriguing temporary exhibits and robust programming including live musical performances.
4. FT33: FT33 is a design district favorite that serves modern, farm-to-table Southwestern cuisine in a beautiful setting with an open kitchen. Don't miss the smoked potatoes and kale salad starters, though pork is the real star on the menu, especially during the new Tuesday night Swine & Wine happy hour, 4:30-6:30pm.
5. The Round-Up Saloon and Dance Hall: The Round-Up is easily the friendliest of Dallas' gay bars — and one of the most fun. Warm, welcoming and a stop on just about everyone's weekend circuit, The Round-Up is a great place to meet locals and show off that two-step (or learn). The bartenders are also generally quite happy to make introductions to any regulars they think you might like, especially if it's a bit quiet.
For more opinionated travel information and inspiration, get ManAboutWorld Magazine on iTunes (iOS) or Google Play (Android). 
Image credits: Top: Linda Tanner; Right: Iain Farrell; Bottom: Doug Wertman