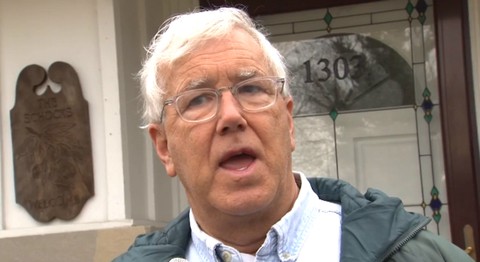 After Aaron Schock's announcement yesterday that he would resign from Congress following persistent investigations into his finances and potential abuse of power, Schock's father is speaking out about his son's decision to step down.
In an interview with ABC News affiliate WLS, Dr. Schock commented that he believes the press was "out to get him" and that Schock was targeted for a take-down because he is "a little different." Said Dr. Schock, "Aaron wears stylish clothing and yet he's not gay..and he's not married and he's not running around with women. Everyone's throwing up their arms because they can't figure out Aaron. So he must be crooked."
In the interview Dr. Schock also commented on his son's future prospects, saying,
"Two years from now he'll be successful, if he's not in jail…If they're going to convict him on paperwork, then they're going to convict him. That's their privilege…They're out to get him and they're making issues out of things that really shouldn't be issues." 
Watch the interview (which turns to Aaron being "a little bit different" at the 5:20 mark), AFTER THE JUMP…