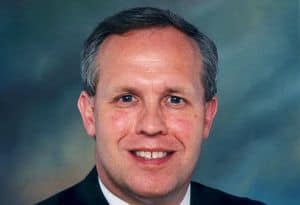 U.S. District Judge Callie Granade has refused a request from a county judge to stay her ruling which struck down Alabama's ban on same-sex marriage. Granade's order compels Mobile County Probate Judge Don Davis (pictured right) to issue marriage licenses to same-sex couples. Reuters reports:
Alabama's all-Republican Supreme Court had contravened that ruling earlier this month. It ordered probate judges to stop issuing marriage licenses to same-sex couples, arguing that the ban was constitutional.
The clashing court orders underscore the depth of opposition to gay marriage in socially conservative Alabama. The gay-marriage ban was passed in 2006 by 81 percent of voters.
Davis, in the face of the contradictory directives by a federal judge and the state Supreme Court, had halted issuing all marriage licenses, to same-sex and opposite-sex couples, and asked Granade to stay her ruling. She declined.
"Although the court would agree that the developments in these same-sex marriage cases has at times seemed dizzying, the court finds that Judge Davis has not shown that a stay is warranted," Granade wrote in the order.
Judge Granade's order seems to make clear that her ruling, not the State Supreme Court's, should take precedence.