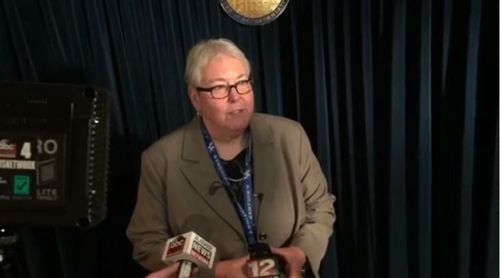 The Alabama House of Representatives gave its approval yesterday to legislation giving judges, ministers and other officiants the right to refuse to conduct marriage ceremonies for LGBT couples, AL.com reports:
Rep. Jim Hill, R-Moody, said he sponsored the bill after receiving phone calls from judges and ministers concerned they would be required to perform marriages ceremonies they didn't want to perform.
House Bill 56, the Freedom of Religion in Marriage Protection Act, passed 69-25. The bill now moves on to the Senate for consideration.
In session today, Rep. A.J. McCampbell, D-Livingston, asked Hill: "Why all of a sudden has this become an issue?"
Hill replied: "I can't answer that, sir."
Tears came to the eyes of Rep. Patricia Todd (pictured above), D-Birmingham, as she spoke against the bill on the House floor. Todd, the only openly gay legislator in the state, said the bill was drafted to discriminate against gay couples who want to marry.
"This is very hurtful to me as an openly gay person," she said.
The Montgomery Advertiser adds:
The legislation says "no church, synagogue, society or religious organization" can be sued over a refusal to provide accommodations or services "related to the recognitions, solemnization or celebration of a marriage."
Both Hill and critics said that current law does not force ministers to conduct marriages they oppose. But language surrounding recognition and accommodation, say opponents, could allow religiously-affiliated organizations like hospitals to deny services to same-sex couples, like visitation rights.
Watch Todd and other lawmakers react to the vote, AFTER THE JUMP…