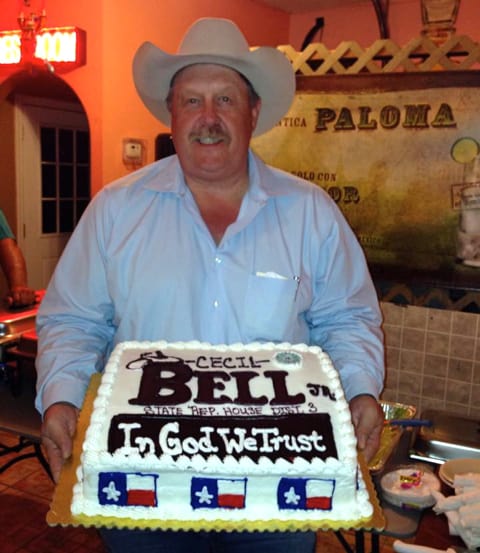 Needless to say, there are plenty of homophobic lawmakers in the Texas Legislature. But GOP Rep. Cecil Bell Jr. is making a name for himself as perhaps the biggest of them all. 
Bell on Thursday filed his third anti-gay marriage bill of the current legislative session. 
House Bill 3602 aims to protect "conscientous objectors" from being punished for refusing to provide services to LGBT people based on their "sincerely held religious beliefs." More specifically, HB 3602 appears designed to allow government employees to refuse to issue marriage licenses to same-sex couples. 
According to the bill, a conscientous objector is someone who believes marriage is or should be recognized as only the union of one man and one woman; that sexual relations should be exclusively reserved to a marriage of only one man and one woman; or that gender or gender identity is or should be determined by the predominant chromosomal sex. 
From HB 3602: 
While HB 3602 may be designed to allow employees to refuse to issue same-sex marriage licenses, its consequences would go far beyond that. It would protect business owners who refuse to serve LGBT people from being punished under local nondiscrimination laws. It could allow police or paramedics to refuse to protect or treat LGBT people with no consequences. A government employee could even presumably refuse to issue a marriage license to a straight couple who's had premarital sex. Of course, the bill is totally unconstitutional, but Bell apparently hasn't read that document. 
Previously, Bell filed legislation that would revoke the salaries of county clerks who issue marriage licenses to same-sex couples, and to make marriage licenses the responsibility of the secretary of state so that county clerks don't issue them to same-sex couples. 
HB 3602 is at least the 14th piece of anti-LGBT legislation in the Texas Legislature this year, which is by far a record. Thankfully, the filing deadline is today, so the onslaught is almost over. 
Also, did we mention that Bell likes cake? We mean he really loves it.