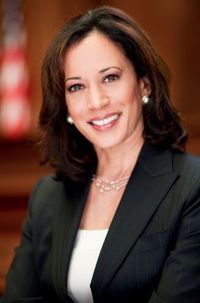 In late February Matt McLaughlin, a practicing attorney based in Huntington Beach, California, began collecting signatures and processing paperwork that would allow him to put up his "Sodomite Suppression Act" for a statewide referendum. The tone of the proposal language in McLaughlin's proposed bill is like a cross between the rhetoric of a religious conservative and a draconian "Kill The Gays" bill.
"Seeing that it is better that offenders should die rather than that all of us should be killed by God's just wrath against us for the folly of tolerating-wickedness in our midst," The proposal reads. "The People of California wisely command, in the fear of God, that any person who willingly touches another person of the same gender for purposes of sexual gratification be put to death by bullets to the head or by any other convenient method."
Unsurprisingly, there is a Change.org petition in place agitating for his disbarring.
California Attorney General Kamala Harris is fighting back to keep the bill from ever making its way to a ballot vote. Though Harris is currently in the process of ramping up her bid for Barbara Boxer's vacant Senate seat, she felt it her duty to stop the ridiculous law in its tracks before it was even fully formed.
"This proposal not only threatens public safety, it is patently unconstitutional, utterly reprehensible and has no place in a civil society," Harris explained. "Today, I am filing an action for declaratory relief with the [Sacramento County Superior] Court seeking judicial authorization for relief from the duty to prepare and issue the title and summary for the 'Sodomite Suppression Act.' If the Court does not grant this relief, my office will be forced to issue a title and summary for a proposal that seeks to legalize discrimination and vigilantism."
In accordance with California's direct democracy style of legislating McLaughlin has had 180 days since February 26th to collect over 360,000 signatures in support of his bill. Though it's highly unlikely that he would have ever been able to meet all of the requirements by his deadline, Harris's move to attempt to block him entirely is admirable, if somewhat driven by her current Senatorial aspirations.