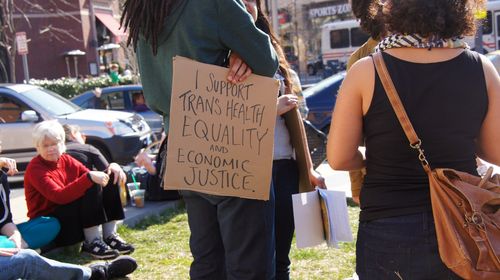 The Williams Institute at UCLA is partnering with Columbia University and the Fenway Institute to conduct what they hope will be one of the most comprehensive studies of the US's transgender and gender non-conforming populations to date. "TransPop: U.S. Transgender Population Health Survey," as the research team is calling it, plans to gather vital information about the health concerns of the trans community, and create a more representative model of just what our trans population looks like.
"Timely and accurate data about the transgender population is crucial for designing evidence-based public health and policy interventions," said TransPop's lead researcher Ilan H. Meyer, a senior scholar of public policy with the Williams Institute. "With awareness about transgender people growing in the public and among researchers and policymakers, there are new opportunities to establish policies that address the needs of transgender people in the United States."
One of the biggest obstacles impeding the creation of more widespread initiatives to provide health and social services to the trans-community is the fact we don't collect a lot of information about them. The information that we do collect, according to the researchers behind this new study, tends to be shot through with a certain degree of statistical inaccuracies due to research methodology.
Most large-scale, survey-based studies of LGBT-identified people are distributed through organizations queer social networks and organizations. While gathering information that way is incredibly useful and effective volume-wise, it runs the risk of skewing sample data by not pulling from a pool that accurately reflects the broader population.
For example, if you weren't in a position to take advantage in your city's trans-outreach efforts or if your city simply didn't have them, there's a strong chance that you could be missed by a targeted study. That's one of the issues facing the oft-cited, but rarely understood populations of "at-risk" trans-youth, many of whom are made virtually invisible to studies like these by the fact that they aren't connected to larger LGBT social networks.
Rather than specifically targeting the trans-population directly through trans-rights organizations and community organizers, TransPop's researchers plan to work their way from the top down, partnering with Gallup to initially survey about 350,000 over the course of a year.
By starting with a comparatively large sample population and whittling it down to those who identify as trans or gender non-conforming, TransPop aims to draw a more accurate picture of what the US's trans community looks like and what it is that they need. Ultimately the TransPop team estimates that they'll gather responses from about 300-500 people, but the responses that those people give could change the way that we think of the trans-population.